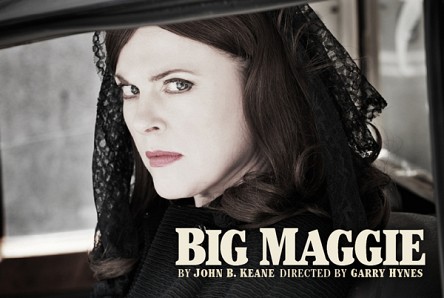 THIS PRODUCTION IS NOW ARCHIVED.
For more information about the Druid archive please click here.
---
About the Play
A riveting story of money, land and secret sex.
On the day of her husband's funeral, Maggie Polpin (Aisling O'Sullivan), widowed mother of four, is now ready to take power into her own hands… but at what cost?
Aisling O'Sullivan, John Olohan and Keith Duffy lead a cast of eleven of Ireland's finest actors in this much loved play by John B Keane. Rave reviews said "the audience was on board from the start, gasping and sighing and even whooping." (The Irish Times), and described Aisling O'Sullivan's portrayal of Maggie Polpin as a "stunningly powerful lead performance" (The Irish Independent).
With Big Maggie Druid continued its exploration of John B. Keane's work which began in 2002 with Sive, followed by Sharon's Grave (2003) and The Year of the Hiker (2006).
---
About the Cast
You can see headshots of all the cast click here. You can also see production photos here.
Aisling O'Sullivan returned to Druid in the title role of Big Maggie, John Olohan played Byrne, the stonemason – the one character whose caustic wit is a match for Maggie's own – and playing one of Keane's most memorable characters, the lusty commercial traveller Teddy Heelin, was Keith Duffy who made his Druid debut. Paul Connaughton, Nancy E.Carroll, Joan Sheehy, Sarah Greene, Amy Molloy, Charlie Murphy, Des Nealon, and Stephen Mullan completed the cast of eleven.
---
About the Tour
Big Maggie was on tour to ten Irish venues between November 2011 and February 2012, and was undoubtedly the hottest ticket in theatres across Ireland during the run.
Following the opening in Galway in November 2011, the production returned to many of the venues Druid had toured to on a regular basis including glór in Ennis, Backstage in Longford and Dunamaise in Portlaoise, to name but a few.
In January 2012, Druid's visit to the Hawk's Well Theatre in Sligo marked the venue's 30th birthday. The production also returned to Galway and to Dublin.
Commenting on the tour, Druid's Artistic Director Garry Hynes said:
"Touring is in Druid's DNA. It's great to be back on the road again, this time with a cast and crew of 18, and in particular with this much loved play by John B. Keane."
Druid's nationwide tour of Big Maggie was made possible through an Arts Council touring grant.
---
Druid would like to acknowledge the continued support of the Arts Council and acknowledges their support in funding this production.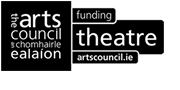 REVIEWS
---
Irish Independent – The Best of 2012 – 31.12.11
Best Actress
"Magnificent" precisely describes the standout female performance of the year also: Aisling O'Sullivan as Big Maggie Polpin, in the Druid production of John B's play. She is exhilarating. And it always helps when an actor looks like they're having the time of their life."
---
Galway Advertiser – Theatre Highlights of 2011 – 29.12.11
"The year ended on a high note with a stirring production of John B Keane's Big Maggie featuring a commanding performance from Aisling O'Sullivan in the title role."
---
The View, RTÉ – 29.11.11
"She is definitely the sexiest Big Maggie ever."
"It's just magnificent."
---
"the audience was on board from the start, gasping and sighing and even whooping."
"The perfection and confidence of her accents fits author John B Keane's script so perfectly that, in a strange way, you can hear his voice when she speaks."
---
The Irish Independent – 24.11.11
"Aisling O'Sullivan's stunningly powerful lead performance in Druid's production"
"Garry Hynes' direction is tight and solid"
---
The Sunday Independent – 20.11.11
"Aisling O'Sullivan's Maggie… a real achievement"
---
"fiendishly compelling… gripping production"
"O'Sullivan gives a tremendous performance"
---
GENERAL
PRESS
COVERAGE
The Irish Times – 14.01.12
READ about the Irish Times Irish Theatre Award nominations for Big Maggie; Best Actress nomination for Aisling O'Sullivan and Best Supporting Actor for John Olohan.
The Irish Times – 19.11.11
READ a feature about writer, John B Keane, including commentary on Druid's production of Big Maggie.
RTÉ Radio 1 – 14.11.11
LISTEN to an interview with director Garry Hynes and cast members, Aisling O'Sullivan and Keith Duffy.