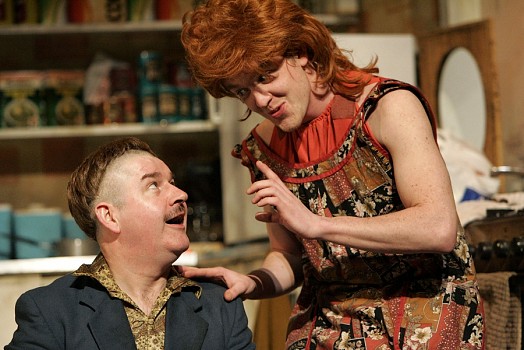 Denis Conway and Garrett Lombard in The Walworth Farce by Enda Walsh. Photo: Keith Pattison
Druid accepts plays in the English language from Irish, UK and other European or Europe-based writers. (For the purposes of clarity, Druid accepts translations of original plays into English that meet our criteria.)
Our window for script submissions is now closed and will re-open in July 2017. Details will be announced online next summer. Please note that we are unable to review any submissions received between December 2016 and June 2017.
How the Submission Process Works
For the open submission process, a reading panel assists the Artistic Director and the New Writing Associate in assessing your play and ensures that a range of perspectives are brought to bear on each submission.
While Druid gives consideration to all plays submitted, we are not in a position to give a detailed a response to each.
The open submission process takes place alongside commissions, workshops, mentoring, public readings and other playwright development initiatives as part of Druid's commitment to bring new work into production.
Druid Guidelines for Submitting a Script.pdf
Druid and New Writing
Druid is a writers' theatre with a track record for premiering new plays of international stature. All the work premiers in Galway, Ireland, and tours to venues throughout Ireland and to many of the world's great stages. Druid has introduced to the theatre writers who have gone on to gain outstanding reputations among Irish and international audiences, including Martin McDonagh, Owen McCafferty, Vincent Woods, Abbie Spallen, Gerald Murphy, Christian O'Reilly and Lucy Caldwell and continues this commitment through our most recent Druid Debut series. Druid has also premiered new plays from writers entering into a highly acclaimed mid-career phase, among whom are Enda Walsh, Marina Carr and Stuart Carolan. Druid has achieved some of its greatest successes when working with Tom Murphy, among the most influential living Irish playwrights.
Druid is committed to producing those plays that are vital and challenging for the contemporary theatre. The open submissions process is very much bound into the heart of that commitment.