by Thomas Conway
Druid has from the beginning placed the writer and the ensemble at the centre of its theatre making. These twin pillars lend Druid its creative tension and, it might be said, its distinctive style: original interpretations and an embrace of the theatre for its own sake making for bold, highly physical, electrifying performances.
1975
Druid was formed in Galway (the principle city of the west of Ireland) in the summer of 1975, when founding members, Garry Hynes, Marie Mullen and Mick Lally joined forces to put together a summer repertory season. Garry and Marie had only just graduated from University College Galway, while Mick (who juggled teaching with acting in the Irish language theatre in the city) gave over his summer holidays to the endeavour.
The summer repertory season was to be auspicious for several reasons. It saw the creation of the first professional theatre company in Ireland outside Dublin (it remains important to Druid to create and première all its work in Galway). It saw the company take on its first ambitous project, premièring three very different plays over successive nights in early July. And it saw Druid discover its 'house playwright' in John Millington Synge when they produced as their first production his comic masterpiece The Playboy of the Western World
To this day, while Druid looks to work with a core group of actors, designers and production crew on a consistent basis, at its heart is the working relationship between Garry Hynes and Marie Mullen, one of the most successful and significant actor-director relationships of the modern theatre. Druid founder and actor, Mick Lally, passed away in August 2010 and up until that time had been one of Druid's core group of actors.
1976-79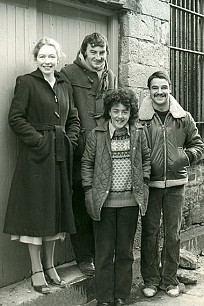 Marie Mullen, Paul O'Neil, Garry Hynes and Maelíosa Stafford outside Druid Lane Theatre, 1979
In these first years, Druid put down key markers to define itself as a Galway-based theatre company operating in west of Ireland, national and international contexts. Within the first year Druid was bringing work to towns in the Galway hinterland and so began its commitment to touring to those parts of Ireland otherwise overlooked by professional theatre. In its programming Druid favoured moving between the Irish and the international repertoire. It also began its commitment to new writing. The first new play Druid produced was written by the artistic director Garry Hynes in collaboration with the ensemble in 1977: The Pursuit of Pleasure, it was based on the life of Oscar Wilde. A return to this approach in 1980 led to the play Island Protected by a Bridge of Glass based on the sixteenth century pirate-queen Grace O'Malley. In 1978, the company produced its first new play from a dedicated playwright, a South Africa-based but Galway-born writer, Geraldine Aron: this play was called Bar and Ger. Aron's second play A Galway Girl followed a year later. With these four plays Druid secured a Fringe First during the company's Edinburgh Fringe Festival debut in 1980.
During this first five-year period when Druid did not have a permanent home, the company produced over thirty plays, ranging from large-scale work to lunchtime offerings.
1979-1989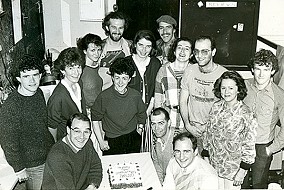 10th Birthday celebrations, 1985
In 1979, the company moved into a permanent venue, Druid Lane Theatre, having negotiated a lease on generous terms with one of Galway's more prominent merchant families, Thomas McDonogh and Sons. Here the company would gain the infrastructual support and fine-hone the working practices and style with which Druid is identified and which forms the basis of its reputation
The achievement of a permanent home enabled the appointment of the first full-time administrator, Deirdre Murphy, in 1980.
With Druid Lane Theatre as a base the company found its feet, and no sooner had it done so than it looked to tour internationally. In 1980, Druid on its first international tour made one of the most notable debuts in the history of the Edinburgh Fringe Festival. This tour was masterfully steered by Jerome Hynes, the brother of Garry Hynes, and threw down a marker for his considerable organisational abilities. In 1981, Jerome would become the general manager for the company to see Druid through its critical productive period in the eighties, the period when its national and international standing was secured. Jerome would come to be widely recognised as one of the more influential arts managers of his time and would go on to secure his reputation with positions at Wexford Opera Festival and the Arts Council of Ireland.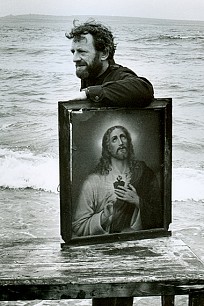 1982 – Druid's first visit to the Aran Islands off the west coast of Ireland – Mick Lally helps to unload the set of The Playboy of the Western World by JM Synge.
In 1982, the company revisited Playboy to gauge, as they could with no other play, their new-found strengths, and not for the first or the last time transformed themselves through coming to new artistic terms with the play.
Engaging with key works by Brecht (Threepenny Opera in 1979, Mother Courage in 1982) in part inspired the company to seek out the plays and theatrical means to investigate the west of Ireland as their spiritual home and to bring this work on tour to those parts where it could most meaningfully be received. They looked initially to M.J. Molloy's The Wood of the Whispering (a play that shares wih Beckett's Waiting for Godot not only the theme of waiting but also a première in the month of January, 1953) and created for the production a tour that took in towns and villages throughout the west of Ireland, the smaller of the Aran Islands and extended runs in Galway and Dublin. This was the first instance of what became to be known in the company as 'Unusual Rural Tours' or 'URTs'.
Druid then turned to the work of a living Irish writer, Tom Murphy, to begin what became one of the most important collaborations in the Irish theatre in the 1980s. Throughout this time when Murphy was writer-in-association, Druid produced four of his plays. Two of these were premères and would become two of the company's greatest successes. Members of the company credit this collaboration above all with the professionalisation of Druid.
The commitment to national and international audiences was lived out to such a degree that by the end of the eighties Druid could fairly claim to be one of the most recognised and sought after companies, not only in Ireland, but throughout the English-speaking world.
1990 – 1995
The years 1990-1 and 1994-5 marked critical transitions for Druid and laid the groundwork for its later identity. Previously, in 1988, Jane Daly took over from Jerome Hynes as general manager, and underlined Druid's ability to flourish even after the departure of key members of its formative period. Then in 1991, Maelíosa Stafford was appointed artistic director when Garry Hynes left to become the artistic director of the Abbey Theatre.
Maelíosa Stafford's tenure was characterised by continuity and reinvigoration of Druid's core values and he proved as much a champion of new plays and new theatre talent as his predecessor. In so doing, Maelíosa gained for Druid some of its most notable successes.
Vincent Woods's At the Black Pig's Dyke is the enduring production of this time. It saw Druid engage theatrically with the tensions that had erupted into violence in Northern Ireland and, accordingly, make a determined commitment to tour both sides of the border. At this time, Maelíosa also began Druid's relationship with the work of Billy Roche, among the most important new voices to have emerged from Ireland in the lates eighties.
Garry Hynes then returned to Druid in 1995 and lost no time in giving notice of wanting to break with its past. Determined on a course to remake the relationship with audiences locally, nationally and internationally and to put Druid on a different artistic and structural footing, Garry did not, however, give a definitive shape to this intention until the première of Druid's next new play.
1996-97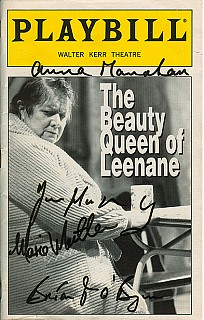 Anna Manahan in The Beauty Queen of Leenane at the Walter Kerr Theatre
Druid premiéred The Beauty Queen of Leenane by Martin McDonagh in a co-production with the Royal Court on 2nd February 1996 and the following year combined it with two other McDonagh premiéres, A Skull in Connemara and The Lonesome West, to form the Leenane Trilogy. When the Trilogy was performed in its entirety in one day, it could fairly claim to be the most ambitious undertaking for Druid up to that point. These productions embraced the spectrum of Druid's ambition, from decidedly off-centre URTs to performances in the cultural capitals of the English-speaking world, including London, New York and Sydney. It gained writing awards for Martin McDonagh and Tony® Awards for the director and the actors.
This association with McDonagh represented a departure for Druid on several fronts. Stylistically, the terms with which Druid explored Irishness were unambiguously from an international and so a highly ironized vantage point. In co-producing with the Royal Court, Druid entered into its first co-production on a new play and by doing so expanded on its international presence. And in developing relationships with the independent and commercial theatre sectors in New York, Druid gained durable entry points into New York theatre on which it continues to build.
Among the more enduring achievements of the production was the new shape it gave to Druid itself. Garry Hynes and Marie Mullen could be seen to form the heart of Druid as before, but working alongside them were new faces as actors, designers, administrators (Louise Donlon would take over as general manger in 1996, another such appointment whose importance can't be overstated) and production staff, many of whom were starting out, and all of whom would go on to gain international reputations. The hunger beating at Druid's heart had found common cause with those hungry on the outside in a deft act both of reinvention and of reconnection with the spirit of its earliest days.
1998 – 2008
In the period since the Leenane Trilogy, Druid's commitment to new writing has taken on several practical forms. One such form was the discovery of new or emerging writers. The twelve premières by Druid since 1997 include four which were the writer's professional debut. Indeed, in each of these twelve premières, the writer has achieved a demonstrably bigger platform for their writing than they had achieved hitherto. In addition, a series of staged readings, Druid Debuts, has given a first professional experience to eleven writers to date, and many of these writers have gone on to make their mark in Druid and elsewhere.
Druid has premièred new plays from some of the most persuasive, proven writing talents to emerge in recent Irish theatre: Marina Carr, Enda Walsh and Stuart Carolan. A reconstituted commissioning policy has played its part in this.
The association with Enda Walsh has emerged as the most important and productive in recent years, an association to compare with the previous associations with Tom Murphy and Martin McDonagh.
A trilogy of plays from John B. Keane provided the main thrust to Druid's explorations of the Irish repertoire in the first years of the millennium. John B. Keane's work is attuned, to an unrivalled degree, to Irish rural life – its rhythms and pulse and its contending forces of modernity, Catholicism and the pre-modern – and Druid reconnected with audiences throughout Ireland through its explorations of the violent faultlines that erupt through Keane's work.
Throughout 2004 and 2005, Garry Hynes, Marie Mullen and Mick Lally delivered on a shared commitment to stage together all six plays of John Millington Synge's dramatic canon. DruidSynge was the result, with the staging of all six plays in one day at the 2005 Galway Arts Festival, the most ambitious and perhaps successful undertaking in Druid's history. It was described by the Irish Times as 'one of the greatest achievements in the history of Irish Theatre' and by Charles Isherwood of the New York Times as 'a highlight not just of my theatregoing year but of my theatregoing life'.
2009 –
This productive period has been enabled by a succession of dedicated general managers and company directors, including Ciarán Walsh, Ciara ní Shúilleabháin, Fergal McGrath and Tim Smith. Druid has been fortunate also in its associates in other fields, including Maureen Hughes as casting director and Eamonn Fox as production manager.
Druid's next chapter involves as much structural innovation as it does a commitment to reinvent itself and to explore the possibilities for contemporary theatre. Once again Druid is looking to streamline resources to deliver world-class productions. At the same time, Druid is challenging itself to push through ever redefining limits. The aim is to deliver experiences as unforgettable, and more so, than those for which Druid has been celebrated in the past.
The Druid Story essays were written by Thomas Conway, former Literary Manager with Druid.