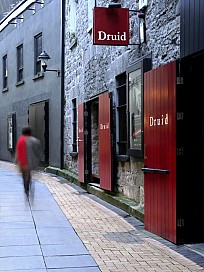 At the heart of everything we do is our audience. Our goal is to create electrifying theatre experiences for every person, in every place and every time we perform.
Druid was founded in Galway in 1975 by graduates of the National University of Ireland, Galway, Garry Hynes, Mick Lally (1945 – 2010) and Marie Mullen – the first professional theatre company in Ireland to be based outside Dublin. The company has had two artistic directors: Garry Hynes (1975–91 and 1995 to date) and Maelíosa Stafford (1991–94).
Ireland's Touring Theatre Company
Druid has always seen itself as a theatre for Ireland and since its foundation has been at the forefront of the development of Irish theatre. Touring the length and breadth of Ireland is an essential part of the company's mission and Druid passionately believes that audiences have a right to see first class professional theatre without having to travel long distances outside their own communities. The company has toured to every nook and cranny in Ireland as well as touring to key global centres around the world including UK, America, Canada, Australia, New Zealand and Japan, making Druid one of the best-known Irish theatre companies in the English-speaking world.
Since 1979, the company has had its own theatre on Druid Lane in Galway. The theatre is the birthplace of all the work and continues to serve as a facility for the promotion and development of the arts in Galway.
Awards
Druid productions have won over 50 awards in Ireland, and internationally, including four Tony Awards for the company's world premiere of Martin McDonagh's The Beauty Queen of Leenane.
Productions
Druid consistently brings groundbreaking productions of classic and new dramatic works to the world stage and, as such, has drawn extensively from the Irish dramatic repertoire and has worked with celebrated Irish and international playwrights.
Recent productions include Waiting for Godot by Samuel Beckett, DruidShakespeare, Brigit and Bailegangaire by Tom Murphy, DruidMurphy – Plays by Tom Murphy, and Big Maggie by John B. Keane.
Visit the Druid archive for a full listing of productions since 1975 here.
The Druid Story & Garry Hynes
Read a detailed history of Druid since 1975 to the present day here.
Read a biography of Artistic Director, Garry Hynes here.
What the Press Say about Druid
"A world-class company rooted in the cultural fabric of Galway"
The Irish Times
"Ireland's most prestigious theatre company."
The Irish Independent
"Hynes is not only a first-rate director. She has that mixture of the visionary and the pragmatic you find in all great theatrical pioneers."
The Guardian (Michael Billington) on Garry Hynes
"any New York visit by the Druid Theater Company of Galway is an event not to be missed.
The New York Times
"The pre-eminent director of Irish drama"
The New York Times on Garry Hynes
Stay in Touch
For up-to-date news on Druid, please join our mailing list here.