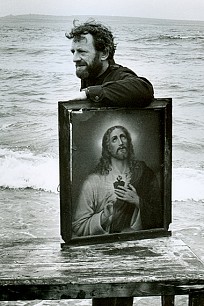 1982 – Druid's first visit to the Aran Islands off the west coast of Ireland – Mick Lally helps to unload the set of The Playboy of the Western World by JM Synge.
National
Druid passionately believes that audiences have a right to see first class professional theatre without having to travel long distances outside their own communities. The company feels privileged to have played in over 100 communities since its inception and is indebted to those audiences who have helped grow the company down through the years.
Within a year of Druid's founding in Galway in 1975, the company started to bring work outside of the city with a visit to Tuam in Co. Galway in 1976. They made their first visit to Dublin in April 1977 and since 1978 Druid has toured to every nook and cranny in Ireland, bringing productions to hundreds of thousands of people in communities from Rathlin Island in the extreme North of Ireland to Cape Clear in the extreme south.
Druid continues to renew its commitment to touring every year and to lobby for the most effective means by which to deliver on this commitment.
Read more about Druid's national touring »
International
Druid first toured internationally in 1980 when it brought four productions to the Edinburgh Festival Fringe returning home with their first Fringe First. Since then Druid has played on four continents making it one of the best known and widely toured theatre companies in the English speaking world.
The success of Druid's recent work is such that the international demand and interest has never been greater. The majority of Druid's international touring initiatives are funded by Culture Ireland, the Irish stage agency which promotes the best of Ireland's arts and culture internationally.
Since its foundation and by the end of 2009, Druid productions will have toured internationally to the following cities.
UK: Bath, Brighton, Cardiff, Coventry, Edinburgh, Glasgow, Liverpool, London, Salford – Greater Manchester, Oxford
USA: Ann Arbor, Berkeley, Boston, Champaign-Urbana, Chapel Hill, Charleston, Chicago, Columbus, Los Angeles, Malvern, Miami, Minneapolis, New Haven, New York, Philadelphia, Washington DC
CANADA: Toronto
AUSTRALIA: Adelaide, Canberra, Newcastle, Perth, Sydney, Wollongong
NEW ZEALAND: Wellington
JAPAN: Tokyo