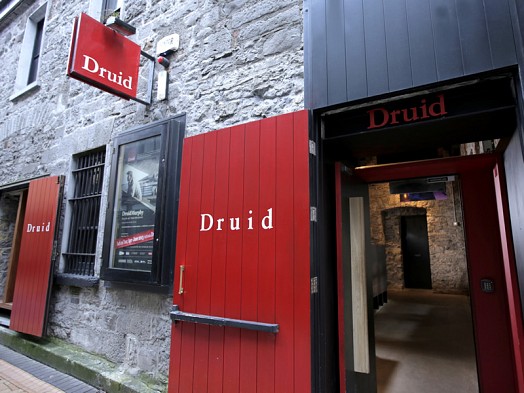 The Mick Lally Theatre, located just off Quay Street in the heart of Galway, is situated in one of the oldest parts of Galway city. Druid first moved into what was then an abandoned and run down part of town in 1979 and since then the building has been Druid's home and the birthplace of the work. The building started the development of the left bank area of Galway and is now the most visited part of the city.
Venue Hire
The Mick Lally Theatre also operates as a venue and plays host to a wide range of events from music, comedy, talks, readings and launches as well as theatre shows from visiting companies. See here for more information.
About The Mick Lally Theatre
Through the years, the lane on which the theatre is situated, has gone by numerous names; Red Earls Lane, Chapel Lane, Courthouse Lane (there formerly having been a courthouse at the Flood Street end of the lane) and since 1996, Druid Lane, when Galway City Council renamed the lane for Druid's 21st birthday.
In July 2009, Druid opened their refurbished theatre following an extensive and much needed refurbishment. The theatre consists of an auditorium which seats approximately 90 people, a large foyer and a rehearsal space complete with dressing rooms and showers. Druid's administration offices are situated in a separate building located around the corner from the theatre on Flood Street.
The Mick Lally Theatre is the space in which the company feels enabled to take artistic risks and from which it draws the strength to create work for audiences locally, nationally and internationally. The theatre will continue to serve as a facility for the promotion and development of the arts.
A production of Brecht's Threepenny Opera was the inaugural production on 19th May 1979 when Druid first moved into the space.
A production of The Gigli Concert by Tom Murphy celebrated the opening of the refurbished theatre on July 18th, 2009.
Read more about the theatre refurbishment, here.
Read a detailed history of Druid since 1975 to the present day here.