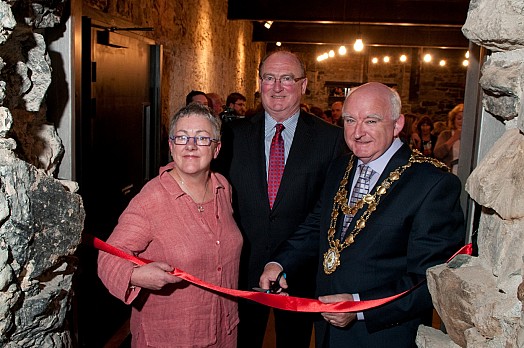 Garry Hynes, Seamus O'Grady (Druid chairman) and Mayor Declan McDonnell officially open the newly refurbished Druid Lane Theatre, Saturday July 18, 2009.
Druid's newly refurbished theatre on Druid Lane was unveiled during Galway Arts Festival with a production of Tom Murphy's masterpiece The Gigli Concert (14 – 25 July 2009). The refurbishment enables Druid to fulfill its key artistic and cultural role into the future while providing a more rewarding theatrical experience for audiences. The official opening of the intimate theatre took place over two nights on Saturday 18 and Monday 20 July 2009.
Since Druid first moved into the space in 1979, the company has been bringing groundbreaking theatre from the converted warehouse in Druid Lane to audiences in Galway, throughout Ireland and around the world. The landmark cultural facility is where the real character and shape of the company took root and has been the creative birthplace of all the company's work from J.M. Synge's The Playboy of the Western World through to Martin McDonagh's Leenane Trilogy right up to the opening production of The Gigli Concert by Tom Murphy.
Garry Hynes, Artistic Director said: 'I am truly delighted to be welcoming audiences back to our home in Druid Lane with this brilliant production by Tom Murphy. The theatre space, which holds the memories of 30 years, occupies a special part in all our hearts and has been the centre for all our work whether it ends up being performed in Galway, Bohola or Broadway'.
---
Photo Gallery
Photographs by Reg Gordon