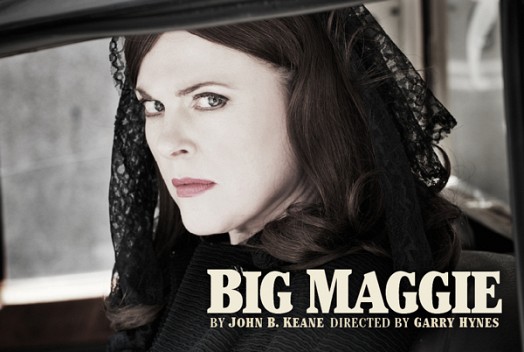 Nationwide Tour November 21, 2011 – February 11, 2012
September 13th, 2011
Druid announces details of a nationwide tour with John B. Keane's Big Maggie, directed by Garry Hynes. Following its opening run in Galway's Town Hall Theatre (November 11 – 19) it will transfer to the Gaiety Theatre, Dublin (November 21 – 26) and play Ennis, Cork, Castlebar, Tralee, Portlaoise, Roscommon, Longford and Sligo.
Money, land and secret sex make for a riveting story in this, one of John B. Keane's most popular plays. Aisling O'Sullivan returns to Druid in the title role of Big Maggie. Keith Duffy and John Olohan join O'Sullivan to lead a cast of eleven of Ireland's leading actors. Shocking for its time – the play premiered in 1969 – the portrait that Keane painted of the dark side of Irish family life seems now to be eerily prescient.
With Big Maggie Druid continues its exploration of John B. Keane's work which began in 2002 with Sive, followed by Sharon's Grave (2003) and The Year of the Hiker (2006).
Commenting on the tour, Druid's Artistic Director Garry Hynes said:
"Touring is in Druid's DNA. It's great to be back on the road again, this time with a cast and crew of 18, and in particular with this much loved play by John B. Keane."
On tour from November 21st the production will return to many of the venues Druid has continued to tour to on a regular basis. In January 2012, Druid's visit to the Hawk's Well Theatre in Sligo will mark the venue's 30th birthday. In 1982 it was a Druid production of Much Ado About Nothing by William Shakespeare that officially opened the venue. Big Maggie will also return to Galway in January 2012 for a further five performances.
Paul Connaughton, Nancy E.Carroll, Joan Sheehy, Sarah Greene, Amy Molloy, Charlie Murphy, Des Nealon, and Stephen Mullan complete the cast of eleven.
Druid would like to acknowledge the financial support of the Arts Council in staging this production. Druid's nationwide tour of Big Maggie is also made possible through an Arts Council touring grant.
2011
DATES
GALWAY, Fri Nov 11 – Sat Nov 19
Opening Night – Tues Nov 15
Previews – Fri Nov 11 & Sat Nov 12
Town Hall Theatre
DUBLIN, Mon Nov 21 – Sat Nov 26
Gaiety Theatre
ENNIS, Mon Nov 28 – Tues Nov 29
glór
CORK, Thurs Dec 1 – Sat Dec 3
Everyman Palace Theatre
CASTLEBAR, Tues Dec 6 –Weds Dec 7
Royal Theatre and Event Centre
TRALEE, Fri Dec 9 – Sun Dec 11
Siamsa Tíre
PORTLAOISE, Weds Dec 14 – Thurs Dec 15
Dunamaise Arts Centre
ROSCOMMON, Sat Dec 17 – Sun Dec 18
Roscommon Arts Centre
LONGFORD, Tues Dec 20 – Thurs Dec 22
Backstage Theatre
2012
DATES
SLIGO, Weds Jan 18 – Sat Jan 21, 2012
Hawk's Well Theatre
GALWAY, Tues Jan 24 – Sat Jan 28, 2012
Town Hall Theatre
DUBLIN, Monday Jan 30 – Sat Feb 11, 2012
Gaiety Theatre
To visit the production page, click here.