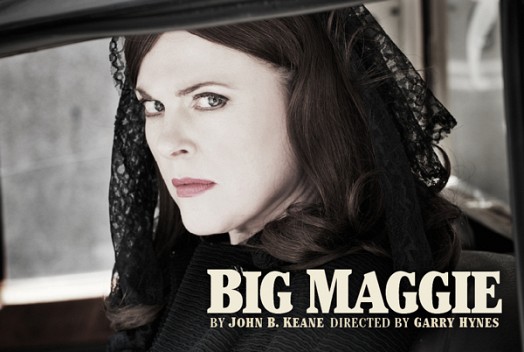 Following recent international success with The Cripple of Inishmaan and Penelope, Druid returns to the writing of John B. Keane with a new production of Big Maggie this autumn.
Set in 1960s rural Ireland, Big Maggie is a compelling portrait of a woman who is determined to take control of her life following the death of her husband. Money, land and secret sex make for a riveting story of how Big Maggie takes power into her own hands. Shocking for its time – the play premiered in 1969 – the portrait that Keane painted of the dark side of Irish family life seems now to be eerily prescient.
With Big Maggie Druid continues its exploration of John B. Keane's work which began in 2002 with Sive, followed by Sharon's Grave (2003) and The Year of the Hiker (2006).
Aisling O'Sullivan will play the title role of Big Maggie.
Taking a break from rehearsals for The Silver Tassie which is New York bound at the end of the month, Garry Hynes commented that, "Big Maggie is one of the iconic roles of Irish theatre and I'm delighted that one of Ireland's finest actors is returning to Druid to play the role."
Joining O'Sullivan will be some of the finest young emerging Irish actors including Paul Connaughton, Charlie Murphy, Amy Molloy and Sarah Greene. Playing Byrne, the stonemason, – the one character whose caustic wit is a match for Maggie's own – is John Olohan and he is joined by Joan Sheehy who makes a welcome return to Druid playing the role of Mrs Madden. Finally, playing one of Keane's most memorable characters, the lusty commercial traveller Teddy Heelin, is Keith Duffy who will be making his Druid debut.
During the last six months, Druid has toured Ireland and travelled coast to coast across America as part of Imagine Ireland. The company will complete its international touring in 2011 when it brings its production of Seán O'Casey's The Silver Tassie to the Lincoln Center Festival in New York from July 24 – 31. With this production of Big Maggie, Druid will return to what is at the heart of what they do, when they will play not only Galway and Dublin but also tour Ireland.
Rehearsals will commence in October and the production will play the Town Hall Theatre in Galway from November 11-19 and the Gaiety Theatre in Dublin from November 21-26. It will then undertake a nationwide tour.
Druid would like to acknowledge the support of the Arts Council in funding the staging of this production.
---
Visit the Production Page here.
For full cast and creative info see below or click here.
---
Cast Includes
Paul Connaughton
Nancy E. Carroll
Keith Duffy
Sarah Greene
Amy Molloy
Charlie Murphy
Des Nealon
John Olohan
Aisling O'Sullivan
Joan Sheehy
Creative Team
Director
Garry Hynes
Set & Costume Designer
Francis O'Connor
Lighting Design
Paul Keogan
Sound Design
John Leonard
Composer
Colin Towns
---
Druid would like to acknowledge the continued support of the Arts Council in funding the company's work.