A very Happy New Year from everyone at Druid. Thank you for making 2011 a great year for Druid – we hope you enjoyed and we look forward to seeing you again in 2012.
A special thanks to the audiences, venues, funders, sponsors, friends & members, actors and crew who contributed to the past year on and off stage.
2011 has been a great year and here's a reminder…
100,000 of you saw Druid shows in Ireland, the UK and the US
We spent 22 weeks touring in the US as part of Imagine Ireland, Culture Ireland's year-long celebration of Irish arts in the United States in 2011
We brought Big Maggie on tour around Ireland and continue the tour into 2012
We unveiled a window seat at our home on Druid Lane to mark the first anniversary of the passing of one of our founders, Mick Lally
We announced our biggest project to date DruidMurphy – The Plays of Tom Murphy, which will tour Ireland, the UK & the US in 2012
Where we Went
The Cripple of Inishmaan by Martin McDonagh – Roscommon | Dublin | Galway | Inis Meáin Boston | Washington DC | Chicago | Los Angeles | Ann Arbor | Berkeley | Philadelphia | Charleston | New Haven
Penelope by Enda Walsh London | Washington DC
The Silver Tassie by Sean O'Casey New York
Big Maggie by John B Keane Galway | Dublin | Ennis | Cork | Castlebar | Tralee | Portlaoise | Roscommon | Longford
---
Press Review of 2011 & Preview of 2012
Big Maggie – 2011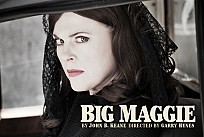 Irish Independent – The Best of 2012 – 31.12.11
Best Actress
"Magnificent" precisely describes the standout female performance of the year also: Aisling O'Sullivan as Big Maggie Polpin, in the Druid production of John B's play. She is exhilarating. And it always helps when an actor looks like they're having the time of their life."
"Druid's production of Big Maggie goes on tour, with a storming performance by Aisling O'Sullivan. The Irish Times's critic Peter Crawley calls it a "gripping production".
Galway Advertiser – Theatre Highlights of 2011 – 29.12.11
"The year ended on a high note with a stirring production of John B Keane's Big Maggie featuring a commanding performance from Aisling O'Sullivan in the title role."
---
Penelope, The Silver Tassie & The Cripple of Inishmaan – 2011
Galway Advertiser – Theatre Highlights of 2011 – 29.12.11
"Touring also featured prominently in what was another hugely successful year for Druid. Three of the company's productions – Penelope, The Silver Tassie, and Cripple of Inis Maan made much-acclaimed forays to the United States.
Cripple's five-month Irish and US tour was Druid's longest single run of a production on tour in the company's history. Its 17-week coast-to-coast tour of the USA was the biggest US tour undertaken by an Irish company in decades, while the tour ended in June with two performances on Inis Meáin, which was the first time the play was performed on the island."
---
DruidMurphy – 2012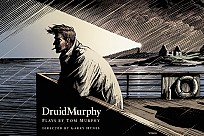 The Sunday Times – The Top 100 Events for 2012 – 08.01.12
Theatre Pick
"After the success of DruidSynge comes the Galway company's Irish, UK and US tour of three of Tom Murphy's finest plays: Famine, Conversations on a Homecoming and A Whistle in the Dark.
The Irish Times – 25 Things to Look forward to in 2012 – 31.12.11
"It begins with a faith so rigid that it cannot be eaten away by the Great Hunger. It continues in 1960s Coventry, where an uprooted Irish family is tearing itself apart. And it concludes in a Galway pub where reunited friends seek new beliefs in a disenchanted Ireland. The tragedy of famine, as Tom Murphy saw it, was that "a hungry and demoralised people become silent". Starting in May, the restorative journey of DruidMurphy , a staging of Tom Murphy's Famine, Whistle in the Dark and Conversations on a Homecoming , which will tour Ireland, London and the US, is the story of a nation. Essential."
Galway Advertiser – Theatre Highlights of 2011 – 29.12.11
"Druid also announced their plans for what will certainly be one of the highpoints of next year's theatre calendar; the epic DruidMurphy project in which they will stage Tom Murphy's Famine, Conversations on a Homecoming, and Whistle in the Dark. "
---