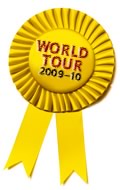 'The Walworth Farce is as brilliant an original as you are likely to see in the theater this year' The New York Sun
THE BIGGEST WORLD TOUR FOR A NEW PLAY IN RECENT THEATRE HISTORY.
When this production closed in Sydney on April 24, 2010 there had been 209 performances in 22 different cities across six countries. 627 cans of beer, 418 packets of pink wafers and 41 pints of Maureen's 'special blue sauce' were used in the process!
Read about how it started and where it went!
One of the most innovative and thrilling playwrights of his generation, Enda Walsh is internationally celebrated for his exhilarating wordplay and the visceral power of his stories. His play The New Electric Ballroom, also presented by Druid, has enjoyed similar success at home in Ireland, in the USA, the UK and Australia.
---
It's 11 o'clock in the morning in a council flat on the Walworth Road in London. In two hours time, as is normal, a father and his two sons will have consumed six cans of beer, fifteen crackers with spreadable cheese, ten pink biscuit wafers and one oven cooked chicken with a strange blue sauce. Enda Walsh's 'ferociously entertaining' play combines hilarious moments with shocking realism and delivers an achingly tender insight into what happens when we become stuck in the stories we tell ourselves about our lives.
---
Behind the Scenes
Listen to and watch behind the scenes interviews.
---
Druid would like to acknowledge and thank Eugene Downes and his team at Culture Ireland for their financial support and commitment to bringing The Walworth Farce on this world tour. Druid would also like to acknowledge the Arts Council for their financial support towards the original staging of this production.
---