The Walworth Farce by Enda Walsh. Directed by Mikel Murfi
The story of a Druid production…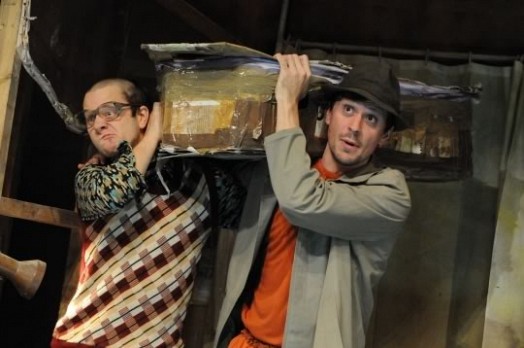 Tadhg Murphy (Sean) and Raymond Scannell (Blake) in Druid's 2009-10 World Tour production of The Walworth Farce by Enda Walsh
2003
The Walworth Farce is commissioned by Druid.
2006
World premiere at the Town Hall Theatre, Galway, on 20th March followed by a short tour to Cork and Dublin. The production receives remarkable Irish notices and work begins almost immediately to bring the production to the Edinburgh Festival the following year.
2007
Opens to critical acclaim at the Traverse Theatre as part of the Edinburgh Festival, winning the prestigious Fringe First award. Plays to sold-out houses and attracts the attention of international presenters. The calls to tour the work begin and plans are made to bring it to New York, London and back home to Ireland the following year.
2008
American premiere at St Ann's Warehouse, New York, on 17th April 2008. In September it joins the 'rep' of the National Theatre, London, for a three month run, becoming the sell-out hit of the season. In December it returns home to Galway where it plays to a capacity crowd at the Town Hall Theatre before transferring to the Project Arts Centre, Dublin.
2009
In September, The Walworth Farce starts out on one of the biggest world tours for a new play in recent theatre memory. The production opens in the UK, followed by a quick stopover in Galway ahead of an extensive tour of Canada and coast-to-coast America.
2010
Premieres in Australia and New Zealand and the curtain closes on a play that has wowed audiences all around the world for the past 5 years. As for the future, watch this space…
---
Acknowledgements
Druid would like to acknowledge and thank Eugene Downes and his team at Culture Ireland for their financial support and commitment to bringing The Walworth Farce on this world tour. Druid would also like to acknowledge the Arts Council for their financial support towards the original staging of this production.
---
Tour Locations
The Druid production of The Walworth Farce toured to these cities between 2006 and 2010.
2006 – 2008
Galway, Ireland
Cork, Ireland
Dublin, Ireland
Edinburgh, UK
New York,

USA

London, UK
2009 – 2010
Oxford, UK
Salford, UK
Galway, Ireland
Toronto, Canada
Columbus, Ohio,

USA

Minneapolis,

USA

Chicago,

USA

Miami,

USA

Los Angeles,

USA

Berkeley,

USA

Perth, Australia
Adelaide, Australia
Woolongong, Australia
Wellington, New Zealand
Newcastle, Australia
Canberra, Australia
Sydney, Australia