In 2009 The New Electric Ballroom received its Australian and American premieres, toured extensively in Ireland and was also staged in London.
"Mr Walsh … has a breathtaking lyrical gift capable of encompassing daft humor and spine-chilling truths in language that still remains powerfully real" New York Times (link)
"pricelessly funny … deeply moving" Variety (link)
---
Funny, tender-hearted and at times pitch dark.
The New Electric Ballroom is a coiled, dark, glitter-dusted fable of the emotionally stultifying effects of small-town life. Here possibilities are endless, hopes are high and opening your heart might be the one thing that saves you.
This production has wowed audiences in Edinburgh, Perth, London, Galway, Dublin and on tour around Ireland. The winning combination of great writing and breathtaking performances – "the acting is superlative" New York Times – is simply too good to miss!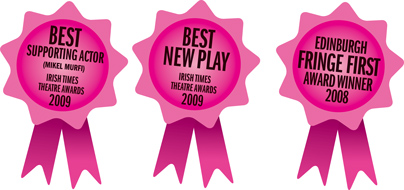 ---
The US and Australian tour was supported by Culture Ireland.
---
On The Play
"another extraordinary work from Walsh" ★ ★ ★ ★ ★
Time Out Mar 09
"as poignant as any other Irish play we've seen in the Festival in recent years"
The West Australian Feb 09
"shatteringly fine theatre, directed by Walsh himself with an explosive theatrical energy that puts most British theatre work to shame" ★ ★ ★ ★ ★
The Scotsman Aug 08 – Joyce McMillan
"a beautiful and devastating play"★ ★ ★ ★
The Guardian Aug 08 – Lyn Gardner
"one of the most exciting nights in Irish theatre"
Mail on Sunday Jul 08
"a yearning sorrowful, deeply touching piece"
The Sunday Independent Jul 08
"darkly universal: in short, the story of our lives"
The Irish Times Jul 08
On The Cast
"The presence of the great Irish actress Rosaleen Linehan in Enda Walsh's The New Electric Ballroom is reason enough to see the play"
The Independent Mar 09
"a breathtaking series of performances" ★ ★ ★ ★ ★
*The Scotsman Aug 08 * – Joyce McMillan
"The beauty and humor of Mr. Walsh's writing flares into unforgettable life in the performances of the superlative cast"
The New York Times Aug 08
On Enda Walsh
"The New Electric Ballroom affirms Mr. Walsh's growing reputation as a contender to take his place in the long, distinguished line of great Irish playwrights."
The New York Times Aug 08
"Walsh goes beyond Beckett and creates his own brilliantly skewed world"
Variety Aug 08
"Walsh confirms himself as one of the most dazzling wordsmiths of contemporary theatre"
The Guardian Aug 08 – Lyn Gardner
"Walsh writes with an invention and verve all his own"
The Times Mar 09