"Druid's production … is a celebration of theatre" The Irish Times
The Nasc Touring Network presents The Gigli Concert by Tom Murphy
A searching, challenging and funny story of hope and possibility and above all the endurance of the human spirit.
JPW King is a quack self-help therapist who whiles away his days with little more than a bottle of vodka, a pot of jam and occasional visits from his lover Mona. When the mysterious Irishman, a despairing property developer, walks through his door and wants to sing like the great Italian opera singer Beniamino Gigli, both men embark on a journey that reaches heights they could never have imagined.
A sell out hit at this year's Galway Arts Festival, Druid returns with their stunning and unmissable production of what is widely regarded as Tom Murphy's masterpiece.
Theatre for Ireland – Director's Welcome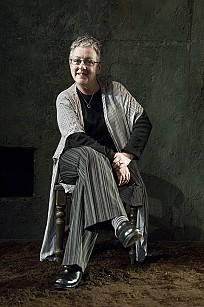 Garry Hynes. Photo: Nick Burchell
We are very proud of this production since it marks not only a renewal of our relationship with Tom Murphy, who has provided our audiences with some of the most memorable nights of theatre in our history, but also because this production of The Gigli Concert was the play that opened our newly refurbished theatre on Druid Lane in Galway this July.
Druid has always believed that everyone in Ireland has a right to see live professional theatre in their own communities and we have tried to honour that commitment even in the face of scant touring funding and increasing costs. This performance would not be possible without the NASC group of venues and the Arts Council and we want to express our gratitude to these six venues and to all the organisations both nationally and locally for their help in making this tour happen.
We look forward to welcoming you to a performance of The Gigli Concert on our tour around Ireland.
Garry Hynes
Artistic Director
---
---
Also currently on tour: The New Electric Ballroom and The Walworth Farce