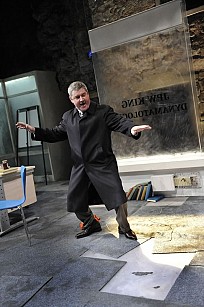 Congratulations to Denis Conway who took home the Best Actor award at The Irish Times Irish Theatre Awards last night. Denis won the award for his role as the Irishman in Druid's 2009 production of The Gigli Concert by Tom Murphy.
This is Denis's second time to win a Best Actor award at the Irish Times Irish Theatre Awards. He previously won the award in 2002 for his role as Richard in Ouroboros Theatre Company's production of Richard III.
Check out The Irish Times for the full list of award recipients.