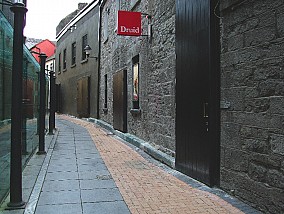 Druid Lane Theatre, Galway
To celebrate Culture Night on Friday September 25th, Druid invites you to take a behind the scenes look at their production of The Walworth Farce and join a backstage tour from 6pm – 6.30pm. You can also enter a competition which might see you winning two tickets for the show that evening as well as a pre-theatre dinner, compliments of Artisan Restaurant* on Quay Street. Entries accepted at the theatre on the night ONLY between 6 and 6.30 with the winner being notified by 6.45pm.
Simply guess: how far will the Walworth cast have travelled by time they finish their world tour in Sydney next April?
Hint: You might want to check this out to help you calculate!
For the duration of the Walworth run in Galway, Artisan Restaurant will be serving their pre-theatre menu which will run from 6-8pm each evening at a cost of €19.95 for two courses or €23.95 for three. For bookings tel: 091 532655.
Tickets for The Walworth Farce can be purchased at the Town Hall Theatre in Galway on 091 569 777 or online at www.tht.ie.