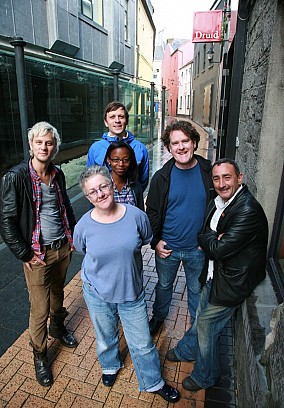 Tadhg Murphy, Raymond Scannell, Mikel Murfi (director), Michael Glenn Murphy, Mercy Ojelade and Garry Hynes (artistic director, Druid) at a photocall to announce the beginning of rehearsals of The Walworth Farce in advance of their extensive tour of the UK, Ireland, Canada, USA, Australia and New Zealand. Photo: Mike Shaughnessy
Druid kicks off rehearsals this week for their multi-award winning production of The Walworth Farce by acclaimed playwright Enda Walsh. Starting out in September 2009 on one of the biggest world tours for a new play in recent theatre memory, by the time this production finally closes in Sydney next April it will have toured to 21 different cities across six countries.
This absurdly funny yet tender play was first commissioned by Druid in 2003 and received its world premiere at the Town Hall Theatre in 2006. Since then it has enjoyed phenomenal success in Edinburgh, New York, London and Ireland, winning the prestigious Edinburgh Fringe First Award and wowing audiences and critics alike. The play centres around an Irish father and his two sons who spend their days in a shabby council flat on the Walworth Road in London as they try to come to terms with their past in Ireland. It combines hilarious moments with shocking realism and delivers an achingly tender insight into what happens when we become stuck in the stories we tell ourselves about our lives.
The 2009/10 tour opens in the UK playing Oxford and Salford, followed by a quick stop-over in Druid Lane Theatre in Galway before it receives its Canadian premiere at The Harbour Front Centre in Toronto. It then begins an extensive national tour of the United States with performances in Columbus, Minneapolis, Chicago, Miami, Berkeley and Los Angeles. In Spring 2010, The Walworth Farce will receive its premiere in Australia where it will undertake a coast-to-coast tour as well as receiving its premiere in New Zealand.
Quote from Garry Hynes "The opportunity to bring this great play by Enda Walsh to an even wider audience is a very exciting prospect and we're thrilled that Galway audiences will be able to see it in the intimacy of our theatre on Druid Lane".
One of the most innovative and thrilling playwrights of his generation, Enda Walsh is internationally celebrated for his exhilarating wordplay and the visceral power of his stories. His play The New Electric Ballroom also recently staged by Druid, was awarded Best New Play at the 2008 Irish Times Theatre Awards and he has enjoyed global success with his plays Disco Pigs, bedbound, Misterman and The Small Things. He also co-wrote the film Hunger which won the Camera d'Or award at the 2008 Cannes Film Festival.
Druid welcomes two new cast members to this production; Michael Glenn Murphy and Raymond Scannell, who join existing cast members Tadhg Murphy and Mercy Ojelade.
Druid would like to acknowledge the support of Culture Ireland with the international touring and is grateful for the support of the Arts Council in funding the original staging of this production.
'Enda Walsh's Irish passion play is loud, mad and viciously theatrical. Its ranting virtuosity and exceptionally grounded performances make it remarkable' Time Out
'The Walworth Farce is as brilliant an original as you are likely to see in the theater this year' The New York Sun
'galloping gothic comedy out of Ireland' New York Times
'This play should go everywhere and be seen by everyone' Village Magazine
'An unsettling but exhilarating blend of the hilarious with the horrifying' The Irish Times