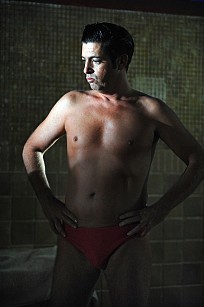 Penelope by Enda Walsh. Karl Shiels. Photo by Robert Day.
Congratulations to actor Karl Shiels who has received a Best Actor nomination in The Irish Times Theatre Award Shortlist for 2010 for his role as Quinn in Enda Walsh's play Penelope, which was directed by Mikel Murfi. The awards will be announced in Dublin on Sunday February 27th and we would like to wish Karl and all the nominees the very best of luck.
Druid premiered Penelope at the 2010 Galway Arts Festival and in the same year the production also toured in Ireland and to Helsinki, Edinburgh and New York. It was one of the New York Times' Top Ten Theatre Highlights for 2010 and it also won a prestigious Fringe First Award at the Edinburgh Festival Fringe.
Kicking off on February 10th, Penelope will tour to the Hampstead Theatre in London and to The Studio Theatre in Washington DC.
Visit the Penelope production page for more information.
Read more about the Irish Times Theatre Awards Shortlist for 2010.