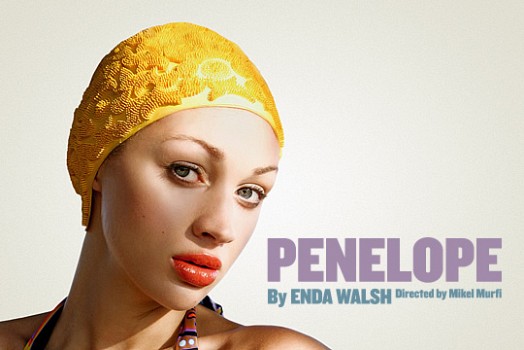 Penelope is on tour in Ireland and internationally from July 8th, 2010 – March 11th, 2011. For full details about the production, you can go to the production page.
---
Druid and Enda Walsh were today celebrating their third Edinburgh Fringe First Award in four years for Penelope, which is currently running at the Traverse Theatre as part of Culture Ireland's annual showcase at the Edinburgh Festivals. The award-winning duo's previous collaborations, The Walworth Farce and The New Electric Ballroom, were both recipients of the prestigious award [in 2007 and 2008 respectively] for outstanding new writing and went on to enjoy phenomenal success worldwide.
Minister for Culture Mary Hanafin, who saw the production at its premiere in the Galway Arts Festival, said:
"When I was in Edinburgh at the Irish showcase this week, I saw just how competitive the largest arts festival in the world is. Warmest congratulations to Enda Walsh, Druid and the wonderful cast and creative team – to win one Fringe First is a major success; to win three in a row is extraordinary."
Eugene Downes, Chief Executive of Culture Ireland, said: "Once again, Edinburgh is proving the perfect global showcase for Enda's distinctive brilliance, vividly realised in Druid's staging. And there's been a very strong overall response so far to the productions in our Edinburgh showcase this year, with several break-out hits in addition to Druid."
Penelope was a sell-out hit when it premiered in Druid Lane Theatre at this year's Galway Arts Festival and received rave reviews and standing ovations. Following its current run at the Traverse Theatre, the production will then run at the Stage Theatre Festival in Helsinki, marking Druid's debut on mainland Europe. It returns to Galway and Dublin before it transfers to New York this autumn and to London and Washington in early 2011.
Pat Moylan, Chairman of the Arts Council, said: "The Arts Council is delighted to congratulate Druid, one of the key theatre companies it supports, on winning yet another international award for its work. Once again, this demonstrates Irish Theatre's international standing, and shows that Ireland still enjoys a deserved reputation for excellence when it comes to the arts."
Garry Hynes, Artistic Director of Druid said "Edinburgh was the city for Druid's first international tour in 1980. Thirty years ago, on that visit, we won the Fringe First and today it is just as thrilling as it was back then, it's a real testament to Druid, Enda, Mikel and the cast that we've won our third award in four years performing these extraordinary plays."
Written by Enda Walsh and directed by Mikel Murfi, Penelope is an exhilarating and hilarious interpretation of the story of Penelope and her suitor's from Homer's Odyssey. We meet four ridiculous men at the bottom of a drained swimming pool who play for Penelope's unwinnable love while facing their inevitable deaths. Enda Walsh's dark comedy takes a look at just how far men will go to win over a woman's heart when their ultimate salvation is at stake.
Now in their 35th year, this summer marks a busy period for Druid. Continuing on from the success of Penelope, their production of The Silver Tassie by Sean O'Casey will open in Galway's Town Hall Theatre on August 24 as part of a tour of Ireland and the UK. Garry Hynes directs a cast of 19 – Druid's biggest ever company of actors – for this epic staging of one of O'Casey's greatest plays.
Druid would like to acknowledge the continued support of the Arts Council in funding the staging of Penelope and for supporting the Irish tour. Druid is also grateful for the support of Culture Ireland for funding the international tour.
Click here for more information about Penelope.