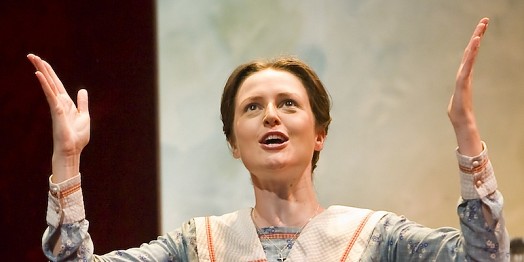 Clare Dunne in The Silver Tassie by Sean O'Casey, directed by Garry Hynes. Photo by Stephanie Berger.
Clare Dunne reprises the role of Susie Monican in The Silver Tassie by Sean O'Casey, directed by Garry Hynes. The Silver Tassie is presented at the Lincoln Center Festival in New York from July 24 – 31, 2011, as part of Imagine Ireland. Druid first presented The Silver Tassie in the Town Hall Theatre, Galway on August 28th, 2010. It went on to tour Ireland and the UK.
---
Visit the production page here
.
---
Week Two of 'Silver Tassie' Rehearsals by Clare Dunne – July 16, 2011
I can't believe I am rehearsing another show two weeks already. Stepping back into 'Tassie' is a weird experience. Stepping back into anything for the second time is a weird experience since I have never done it before. It is wonderful to go, oh look the lines are flying back into my brain but at the same time it is strange.
What bewilders me is that all the same problems you never quite solved in the last rehearsal period come back to sit right in front of you again, going, 'well are you going to fix me this time round or wait till we are in New York?'
And then as we do runs of the acts even stranger things began to happen. As I was waiting off stage to go on for another entrance all the thoughts that dizzied round my head during the tour of the show start to rise up in my mind. I remember the way I solved certain problems, or that one night's journey differed from another in some ways but that essentially, the audience always brought me to a conclusion.
I remember consciously with this particular play, going to the extremes with my inner journey so that I could justify the character's seemingly random changes in personality. Some people think I am playing three different characters because the costumes change so much and the set etc. It is like 4 different plays.
But we have another two runs before New York and I think we will all be raring to go!
The new members of the cast are doing a brilliant job with such a short rehearsal period. Marion O'Dwyer, Garret Lombard, Charlie Murphy and Ray Scannell are all taking on their roles with great energy and quick choices, jumping into some very dramatic emotional scenes and just taking in everything so fast….not too much time to be sitting around thinking!
The lads in Act 2 are as usual making us all a little bit sick with their levels of talent.
And the young chorus from Galway are as reliable as they always were!
That's it really. Another two runs and we are jetting off to New York on Thursday. Good times!
Clare Dunne
July 16, 2011
---