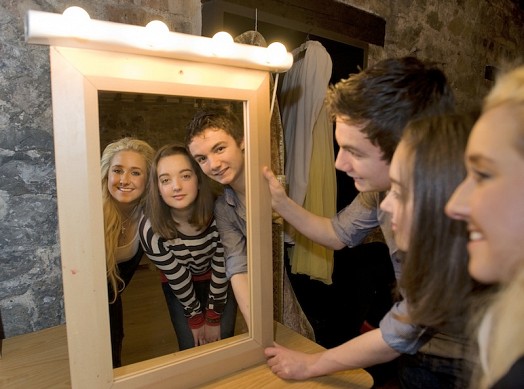 Miriam Ward, Lara Connaughton and John Gaughan who are part of the young chorus in The Silver Tassie by Sean O'Casey which is playing at the Lincoln Center Festival in New York from July 24 – 31, 2011.
Lara Connaughton is a member of the young chorus in The Silver Tassie by Sean O'Casey which is presented at the Lincoln Center Festival in New York from July 24 – 31, 2011. Lara was selected for the part through open auditions which were held locally in Galway in 2010.
Lara Connaughton is a sixth year student at Salerno Secondary School and will reprise her role in Druid's production of The Silver Tassie at the Lincoln Center Festival in New York from July 24 – 31.
Here Lara writes about her experience at the audition, getting the part and making her debut with Druid in Galway on August 24th, 2010.
---
I'm standing in the dark wings, holding Miriam's hand tightly. Our entrance is coming; I can hear the rest of them behind us in the wings. Miriam squeezes my hand tighter, and I lower my head, ready to burst over that luminescent line, where shadow gives way to stage.
And in that moment, I feel completely grateful. The whole, incredible summer plays in my mind in a very clichéd flash-back. I see myself nervously sitting in Druid Theatre off Quay Street – I'll never get this audition, I think to myself but still daring to dream. I recognise the legendary director Garry Hynes, but that's about all. The room is huge, with high brick walls and a black floor. I remind myself to breathe. Before I know it, I'm standing in a line – it's my turn and I sing.
I'm told to stay back with five others and everyone else is thanked and dismissed. Me. Did I hear them right? We start a wild improvisation section of the audition. We're told to lose our inhibitions. "_Theatre's not about you – It's about them_", Elliot, the musical director says as he points to the empty seats in the room, "The audience". That's when it hits me – it's now or never, so I let go. It's all over, and we part with the famous line:_ "Don't call us, we'll call you"_. Feeling better than I could have imagined, I exit the audition room.
Two weeks later, and I've a feeling I've lost a role that was never mine to begin with. That is, until mom rushes into the kitchen playing the voicemail on loudspeaker, offering me the part. Everything that follows is a blur – emails, contracts, phone calls – until the first rehearsal.
I walk through the over-sized black door on Druid Lane, and my previous notions are intensified – I think I might love this place. The four other "Young Chorus" members and I meet, are introduced to our chaperone, Áine, and shuffled upstairs. Elliot teaches us our song in about twenty minutes, and then it's back downstairs to meet the cast. Gulp.
The actors are standing in the warm-up circle around me, and I can't bring myself to look anyone in the face – Converse… Converse… Converse… Vans… Converse. Elliot asks me to sing the first verse. On my own. In this room. I feel my face heat up and I don't think I've ever been as scared but I try my best. At the end they compliment my singing. I stand there, awestruck, gaping like a goldfish.
Day by day, I get to know everyone better as well as our lovely, bubbly chaperone Áine, who has probably helped me more than anyone will know. And the wonderful Druids themselves: Sinéad, Tim, Sarah, Thomas, Ruth… the most lovely group of people you could ever hope to work with. We start interacting with the cast more and in no time at all, the boundaries have blurred and vanished. It's just one big cast who go for lunch together and swap books. It's easier than breathing – I could love this.
Our parts are small; we are part of the victory crowd in Act 1, when Harry's football team wins the trophy of the title – The Silver Tassie; we are stretcher-bearers in Act 2 and finally, Miriam and I dance in the ballroom with Chris and Adam in the last act.
The day comes for us to leave the rehearsal space in Druid and move to the Town Hall Theatre for technical rehearsals. I'm terribly sad to leave such a magical place – watching Garry Hynes direct, listening to the actors debate O'Casey's ideas, being part of it all…magic.
It's hard to decide what my favourite part of the production is. I can't explain the sheer emotion pulsing through me as I watch the 'soldiers' from the side of the stage. An explosion. A rush of adrenaline and then Chris plays our introduction on the flute._ "Oh bear it gently, carry it soft"_. The elated sensation that occurs when your voice leaves you in song, and soars upwards, cutting through the misty dry ice, slicing through your fears. The feeling that you know you're exactly where you are supposed to be. I throw my head back as we spill into the light, and into the unknown.
It's closing night in Galway, and it's our final curtain-call. This is not the time for tears. I smile at Adam as he applauds the five of us Martin, John, Peadar, Miriam & I, all of whom I've grown so close to. The audience are on their feet, clapping up a storm. It wasn't about us anymore. And as I gazed around that standing ovation, from the stalls right up to the balcony, I knew I loved it – it was terrific theatre.
Lara Connaughton
August 24th, 2010
---