Druid is currently not in production. Our next production is The Cripple of Inishmaan by Martin McDonagh, directed by Garry Hynes, which kicks off on January 27th in Roscommon and will be on tour in Ireland and the USA until June 26th. For full details click HERE.
---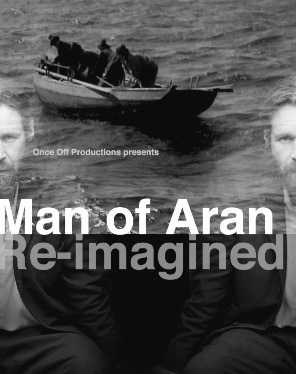 This month in Druid Lane Theatre, Once Off Productions presents Man of Aran Re-imagined, performed by Liam Ó Maonlaí.
Tickets & Information
Dates: Thursday December 9th – Sunday December 12th
Running Time: 1 hour 20 minutes (no interval)
Times: Thursday – Saturday, 8pm & Sunday at 3pm
Ticket Prices: €18 – €22
Where to Book: Call 0818 205 205 (between 10.30am and 3.30pm) or Book Online anytime at www.ctb.ie
For More Information: Please call Maura on 087 223 4201
Please Note: Performed in Irish with English surtitles.
About the Show
Created and Directed by Paul Keogan
Written by Síle Nic Chonaonaigh
Performed by Liam Ó Maonlaí
Composer Mel Mercier
Sound Design by Christopher Shutt
Produced by Maura O'Keeffe
Created and directed by leading Irish designer Paul Keogan and written by Síle Nic Chonaonaigh, Man of Aran Re-imagined sees performer Liam Ó Maonlaí making his theatrical debut accompanied by a new score by Mel Mercier with sound design by renowned UK-based sound designer Christopher Shutt.
Inspired by the traditions of the Irish seanachaí and the Japanese benshi, Man of Aran Re-imagined is an exciting and imaginative live presentation and re-telling of the classic 1930's documentary by Robert Flaherty.
Robert Flaherty's Man of Aran is considered to be a classic and controversial Irish film. After a brief visit to Inis Mór late in 1931, Flaherty, a ground-breaking US documentary maker, resolved to make a film reflecting the harsh way of life he had witnessed. His return to the island in 1932 attracted much media attention, which continued up until the release of the film in 1934. Flaherty was more interested, it would seem, in capturing the spirit of the Islands, so certain realities were contrived and manipulated. However he succeeded in producing a visually stunning film, which has stood the test of time.
Drawing on interviews with Frances Flaherty, (the film-maker's widow) and the autobiography of Pat Mullin (islander and assistant director on the film), the creative team have collaborated to produce a new reading of the film, exploring the myths and legends that have sprung from it, the film's legacy and how it transformed the lives of those involved and aims to capture the true nature of the people and their lives on the island at the time.
Please Note: This is a Once Off Productions event and will be performed in Irish with English surtitles. This is not a Druid event.