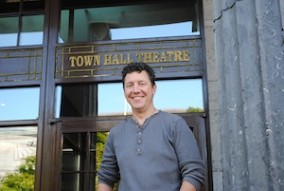 Nick Chesterfield, Rehearsal Stage Manager on The Silver Tassie, outside the Town Hall Theatre in Galway during technical rehearsals.
This week Nick Chesterfield, Rehearsal Stage Manager with The Silver Tassie, talks to Druid's General Manager, Tim Smith, about the technical rehearsals which started this week.
Nick has worked with many companies, including Propeller, who on their 2009 world tour brought A Midsummer Night's Dream and The Merchant of Venice to the Galway Arts Festival. Ten years ago Nick trained Tim as a Stage Manager when they worked together at the Royal Shakespeare Company.
Before taking up his role as General Manager in 2008, Tim worked for six years as a Stage Manager with Druid so he understands the skills required to ensure that come opening night, everything on stage has to run as smoothly as possible.
To go to the production page for The Silver Tassie on this site, click HERE.
This article first appeared in the Galway Advertiser on Thursday August 19th, 2010.
---
Tim: For the past four weeks we've been rehearsing in our theatre on Druid Lane and this week we moved up to the Town Hall Theatre for what is known as "tech" or "technical rehearsals". What does a Stage Manager do during "tech"?
Nick: Essentially the Stage Management team is there to support everything that happens on the stage. While there are other specialists in lighting and sound, the Stage Manager's job is to know what is going on and make sure everything and everybody is in the right place at the right time.
Tim: I know that technical rehearsals are very busy times and especially on a production of this scale. What will actually happen this week at the Town Hall?
Nick: We take all the work that Garry and the actors have done over the last month in the rehearsal room and we put it on the stage adding into it all the technical aspects – the set, the costumes, the lights, the sound and the furniture and props. We have a limited time to add everything in so it has the potential to be very stressful but it's very exciting too to see it all come together.
Tim: Does that make for a tough week for a stage manager?
Nick: It is usually the hardest week of any production because there is a lot to do. We are working towards the date of our first preview next Monday and the Town Hall will be a hive of activity from 9am through to midnight with different teams working on their aspect of the production.
Tim: You've worked mostly in theatre throughout your career, does The Silver Tassie differ in any way to other plays?
Nick: It's a big show with a company of 19 actors, an epic set design and a huge amount of music. It's hard for me to say how that fits against what Druid normally do as this is my first show with the company but by any standards it is a big production.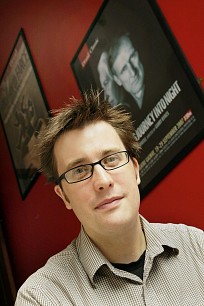 Druid General Manager Tim Smith
Tim: As well as a large cast, the production also features four actor-musicians. Watching the run-through the other day, I saw how talented they all are. It felt like they could pick up a pencil and make it play! What do they bring to the rehearsal room?
Nick: I've worked with actor-musicians before and these guys are really great at what they do. Being soldiers behind the front line while playing and acting with accordions, cellos, and ukuleles is quite a challenge.
Tim: How have you enjoyed rehearsing in Galway so far?
Nick: I was here once before at last year's festival but Galway is just so lovely. It's great to see it outside of festival time and to see how much of a buzz there is – there's so much going on all the time.
Tim: We are losing you next week as you return to Propeller to start their new tour and Catherine Buffrey is taking over from you as Stage Manager, do you wish you were staying?
Nick: I think I'm going to miss the best bit. I've loved getting to know everyone and they are about to go on a journey with the play which I'd like to be sharing with them but I know they'll all have a fantastic time.
Tim: Will we see you anywhere on the tour?
Nick: I've a gap in my Propeller schedule in September so I'm coming to Manchester to see everyone and catch up then. Can't wait.
About The Silver Tassie
The Silver Tassie runs from Tuesday August 24 to Tuesday September 7 in the Town Hall Theatre, Galway and is then on tour in Ireland and the UK until October 24th. For full details go to the production page.
To book tickets in Galway:
Tel: +353 (0)91 569 777
Book Online: Town Hall Theatre
Ticket Prices: €18/€20/€25