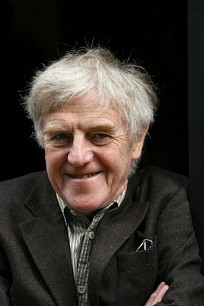 Eamon Morrissey who plays Sylvester Heegan in The Silver Tassie by Seán O'Casey.
Eamon Morrissey is one of Ireland's best-known entertainers who has had a long and distinguished career across all aspects of the business from radio and TV to film and theatre.
Eamon first came to Druid in 2002 and since then has toured with the company to the UK, USA, Japan and Australia. Here he talks about his role as Sylvester Heegan in Druid's forthcoming production of The Silver Tassie.
To go to the production page for The Silver Tassie on this site, click HERE.
This article first appeared in the Galway Advertiser on Thursday August 12th, 2010.
---
Eamon, this isn't your first time to appear in The Silver Tassie?
That's right. I was in the 1972 Abbey production and played one of the young soldiers and now over thirty years later I find myself playing the aul fella! When I re-read the play some months ago I realised how much I really wanted to play the character of Sylvester – he's a smashing O'Casey character.
Can you tell us a little bit about the play?
In Seán O'Casey's plays (The Plough and the Stars, Juno and the Paycock) he is well known for going from comedy to tragedy in a couple of lines and in_ The Silver Tassie_ he has almost deliberately extended that to the extreme going from knockabout farce to the most dreamy, lyrical, elegies of poetry. It's a very relevant play – I mean wars haven't gone away. One of the main themes in the play is betrayal and a people betrayed by a broken down system and that's still pretty relevant to today.
What kind of character is Sylvester Heegan?
Sylvester is the father of young Harry Heegan (played by Aaron Monaghan), one of the footballing heroes who heads off to the battlefields of France during World War One. His character, and that of his friend, Simon Norton, are directly influenced by Laurel & Hardy so they do bring that comic element to the play but Sylverster is very real and there are all sorts of layers to both characters. Sylverster's son, Harry, was the great hero of his life. He held these great athletic powers and bravely headed to the trenches but when Harry returns with injuries, Sylvester either rejects him or is so destroyed by the consequences of war and he just can't handle it to see this hero become so helpless. I also think that it isn't alone the soldiers who have been damaged by the war but it's everyone including Sylvester.
You were also involved in DruidSynge in 2005 when all six of Synge's plays were staged on the same day. How does a play of this nature compare to that?
I never thought there would be anything as difficult as DruidSynge but I can't ever remember in my 50 years or so of working, of working so hard at rehearsals! This is not a complaint – in fact it's the reverse – it is an enormous production and the methods of producing it are enormous and huge. It's the movement and music and sound and Garry's whole concept of it and Garry's way of approaching it but I think this is the only way to do it. You really can't do a watered down version of The Silver Tassie. It is a really wonderful play that deserves this amount of focus.
Garry Hynes has been quoted as saying that with this play she wants to "give audiences something different". Having appeared in the 1972 Abbey production do you have a sense of how audiences in 2010 might react to the play?
The exciting thing about this production is that it seems as if Garry Hynes has used all the talent, the experience and the resources of Druid to put this together. I mean it's still very much her production but there are so many levels and layers of talent working right through it that it makes it very exciting.
And if I go right back to the 1972 production in the Abbey, I remember the silence of the audience – they were totally absorbed in it. I think that our audiences in 2010 will respond to it but let's see what opening night brings!
About The Silver Tassie
The Silver Tassie runs from Monday August 23 to Tuesday September 7 in the Town Hall Theatre, Galway and is then on tour in Ireland and the UK until October 24th. For full details go to the production page.
To book tickets in Galway:
Tel: +353 (0)91 569 777
Book Online: Town Hall Theatre
Ticket Prices: €18/€20/€25