Audiences in Boston and Washington DC responded fantastically to our production of The Cripple of Inishmaan by Martin McDonagh on the first leg of this nine city US tour. The cast received standing ovations after every performance and raves reviews described the production as "wonderful" (The Boston Globe) and "fiendishly funny" (The Washington Post).
You can read the full reviews HERE.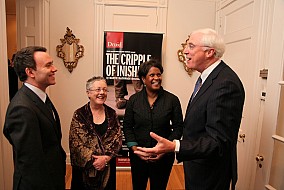 Eugene Downes, CEO, Culture Ireland; Garry Hynes, Artistic Director, Druid; Alicia Adams, Head of Intl Programming, Kennedy Center and Irish Ambassador Michael Collins at a reception in his residence in Washington DC. Photo by Marty Katz
During our visit to Washington DC, Irish Ambassador Michael Collins and his wife Marie, hosted a reception to honour Druid's visit. It was attended by Garry Hynes, the cast and crew and approximately 100 other guests including Eugene Downes, CEO of Culture Ireland.
You can read about the reception in a report by The Irish Times.
The production is touring the US as part of Imagine Ireland, Culture Ireland's year-long season of the Irish arts in America in 2011.