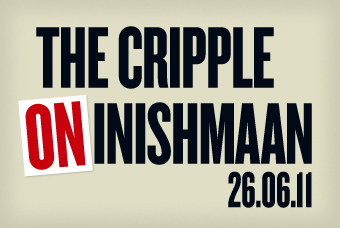 This weekend we plan on sharing as much as possible of our visit to Inis Meáin with The Cripple of Inishmaan.
How it Works
We've set up a one-stop-shop on our website where you can get all the updates that will be coming through our Twitter, Facebook, Flickr and You Tube links. Hope you enjoy sharing the journey with us and don't be shy – do get involved in the conversation too!
We know that so many of you wanted to be on Inis Meáin this weekend and for lots of different reasons, that just wasn't possible. So basically from the moment we set off on the ferry on Saturday morning, to when we return on Monday, we'll be posting videos, photos and lots of news from the weekend.
OR
You can check in directly with us through the following platforms:
'Like' the Druid Facebook page
Follow the Twitter Hashtag for the weekend #INISHBILLY
Check out our Flickr page