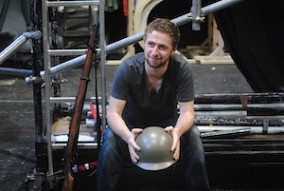 Aaron Monaghan, who plays the role of Harry Heegan, in rehearsals for The Silver Tassie by Seán O'Casey.
This article first appeared in the Galway Independent on Wednesday August 12th. You can read the article online HERE.
To go to the production page for The Silver Tassie on this site, click HERE.
Aaron Monaghan has played leading roles in many Druid productions in recent years and plays the role of Harry Heegan in Druid's forthcoming production of The Silver Tassie by Seán O'Casey.
---
You've previously worked with Druid on The Playboy of the Western World and The Cripple of Inishmaan to name but a few productions; what is it about Druid that makes you keep coming back to work with the company?
Apart from picking plays that are interesting to me, the quality of the plays created by Druid are of such a high standard, nationally and internationally, so it's natural that I'd want to be part of that again and again. It helps that in the room there are always people you're familiar with so it means you can get into the work quicker, can be less-inhibited. There is a respect for everyone's individual process. I know I will always be challenged, that's important for me.
Is there a difference between performing in front of Druid's home audience in Galway and performing with Druid in other countries?
Not really that I've noticed. The reaction is the same. I think there's a massive sense of pride and ownership of Druid with the home audience. It feels like a success story belonging to the city of Galway, a company doing very well around the world, yet feet still firmly on Galway soil. Abroad, I think people have a great respect for Druid as an international company creating world-class theatre, who probably wouldn't believe it operates out of a tiny space up a narrow lane-way in the west of Ireland.
Druid's production of The Silver Tassie will be the largest single production to tour Ireland this year, how does it feel to be involved with such an epic staging?
Epic is the word. It's hugely challenging and hugely important for the reason that it is the single largest touring production in the country this year. With the massive cuts in arts spending there is a huge amount of cutting back in work. That's not happening with The Silver Tassie. This to me feels every bit as important and as epic as DruidSynge was. This production will be touring to small regional venues, and people all over the country will be able to see it. Given the climate we're still in, that feels very satisfying to me.
How would you describe The Silver Tassie to people who may be more familiar with other works by Seán O'Casey?
It's described as a tragicomedy, in the same way as something like The Plough and the Stars is. It is initially set in the Dublin tenement building, the same way the more familiar plays are, but it moves out of there after the first Act. It will be very familiar to people who know O'Casey's work, it has the same wonderful poetic language, brimming with humour, and characters we're probably all familiar with. But then the play takes you out to the battlefields of World War 1, and takes you back home again. It is a very visual and musical play, and we're hoping to do justice to that.
What is it like to work with such a large cast?
It's lovely. There is such a diverse range of ages and experiences in the room, it creates a very positive atmosphere. Some familiar faces to Druid and lots of new faces.
Druid has cast five young people along with the professional cast of The Silver Tassie, what has it been like rehearsing with them?
The five younger cast members are incredible. They are brimming with talent and confidence, yet they're all incredibly humble. It's stunning to watch them. They make me envious of the fact that I wasn't remotely as talented at that age, and a little depressed that I'm not their age anymore. They bring a fantastic energy to the company.
You've also acted in several films and TV shows, how does that compare to performing in front of a theatre audience?
I used to feel less comfortable working with a camera so I used to shy away from it a bit, but I've done a lot more than I used to lately, and have begun to enjoy it a lot more. I used to think acting on film and acting in theatre were completely different and unconnected to each other, and though they are different experiences, I've learned it's essentially the same principles. Work I've done on stage has affected and helped the stuff I've done on camera and made it feel more comfortable and familiar to me, and the camera work has affected my theatre work in an interesting way I hadn't expected, and I'm really enjoying watching how one experience affects the other.
You originally wanted to study architecture at college, when did you first decide that you wanted to pursue acting as a career?
Literally the day I auditioned for the course I studied in Trinity College. Not before then. I had no idea how you became an actor. I'd wanted to be an architect since before my Junior Cert, and was still determined to do it right up until the minute of the audition. I didn't make any decision about it, nor did I feel that acting was what I should be doing, I just knew that I was going to be doing it and all of a sudden I was.
Do you have any advice to offer young people who may be considering a career in acting?
Read as much as you can, read different stuff. Go to as many plays and movies as possible, good or bad. Try to keep the voice and the body in good condition. Don't read reviews. Keep a journal.
About The Silver Tassie
The Silver Tassie runs from Monday August 23 to Tuesday September 7 in the Town Hall Theatre, Galway and is then on tour in Ireland and the UK until October 24th. For full details go to the production page.
To book tickets in Galway:
Tel: +353 (0)91 569 777
Book Online: Town Hall Theatre
Ticket Prices: €18/€20/€25