Galway
Druid Lane Theatre, Druid Lane (off Quay St), Galway City
Date: Saturday 6th November 2010
Time: 2.00pm to 6.00pm
Cork
Cork Arts Theatre, Carroll's Quay, Cork City
Date: Saturday 13th November 2010
Time: 2.00pm to 6.00pm
Belfast
The Brian Friel Theatre, Queen's University Belfast, 20 University Sq, Belfast
Date: Saturday 27th November 2010
Time: 2.00pm to 6.00pm
Dublin
Grand Canal Theatre, Grand Canal Square, Dublin 2
Date: Saturday 4th December 2010
Time: 1.00pm to 5.00pm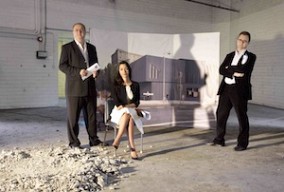 L-R: Prof Brian Singleton (Academic Director of The Lir), Danielle Ryan of the Cathal Ryan Trust and Edward Kemp (RADA Director)
The exciting new National Academy of Dramatic Art at Trinity College Dublin, The Lir, is taking itself on the road with a series of public Q&A dates throughout the country. Travelling to Cork, Galway, Belfast and Dublin, aspiring actors will get a unique opportunity to find out all about training at The Lir, and will get top industry tips on how to perfect an audition and hints that will help them long into their careers.
Attendees will benefit from insights from a Q&A panel that has taught some of the UK and Ireland's top acting talent, including Kenneth Branagh, Alan Rickman, Fiona Shaw, Jason O'Mara and Ruth Negga amongst others. Representatives from Trinity, RADA and the Cathal Ryan Trust will offer their combined decades of audition judging experience, and will be available for one-on-one questions as well as via a panel discussion.
The application process is now open for the 2011/12 Bachelor in Acting intake, and application forms can be downloaded from www.thelir.ie. Commenting on the audition process, Prof. Brian Singleton, the first Academic Director of The Lir, said "We expect that students will come from very diverse backgrounds and we will assess them on the basis of exceptional natural talent, not academic qualifications. We'll then invite them to attend an audition in which we'll want them to present both a classical and contemporary monologue, followed by a short interview. Those students who show natural talent and a potential for training will be invited to further rounds of auditions where they will be assessed as part of an ensemble". Entry into the already prestigious Academy will be by audition and interview only and is not part of the CAO points system. The three-round audition process will start in January 2011 and continue until June 2011.
The Lir, the new Academy of Dramatic Art, like its official associate RADA (who trained luminaries of the acting industry such as Anthony Hopkins, Ralph Fiennes and Gemma Arterton), offers conservatoire-style training for theatre, film, TV, and radio. The Academy has been developed by the partnership of Trinity College Dublin and the Cathal Ryan Trust, and will open in the purpose built facility in the Grand Canal Dock area in autumn 2011. The training is at a very high level and is very particular to each student, as a result there are only 14 places available each year on the BA in Acting.
Tony award-winning director Garry Hynes commented, "I'm delighted that there are new and significant training opportunities emerging for young theatre artists. I think it's particularly important that the Lir will have its very own purpose built facility. This is an important step in the development of theatre training in Ireland and should help ensure that the country continues to play a leading role in world theatre."
With so many of the industry supporting The Lir, from renowned directors such as Garry Hynes, to writers like Conor McPherson and actors like Pierce Brosnan, all eyes will be on the talented few that get through!
The Lir Contact Details
Address: The Lir, National Academy of Dramatic Art at Trinity College, Dublin 2
Web: www.thelir.ie
Email: info@thelir.ie
Tel: 353 (0)1 896 2559
Facebook: The Lir
Twitter: @TheLirAcademy