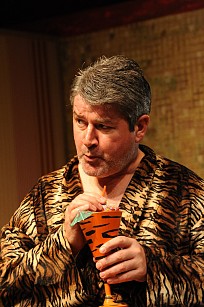 Denis Conway in Penelope by Enda Walsh. Photo by Robert Day.
Penelope by Enda Walsh has received rave reviews, packed houses and standing ovations since it premiered at Druid Lane Theatre on Tuesday July 13th as part of Galway Arts Festival.
"you will never have seen anything like this before"
The Irish Independent (no online link available)
"Penelope is among the finest plays Walsh has written"
The Sunday Times (no online link available)
"This is extraordinary theatre"
The Sunday Independent

To read more reviews and interviews click here.