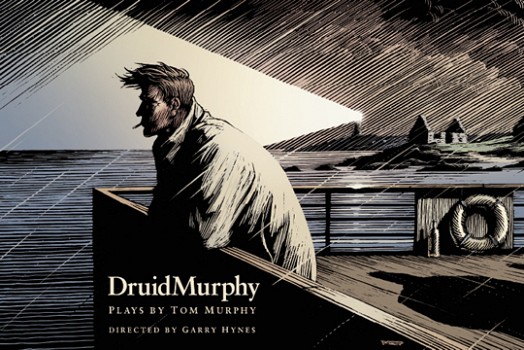 A major celebration of the work of Tom Murphy and the largest touring project in Irish theatre in 2012
19 actors, 12 theatres, 3 countries
Druid announces details of the biggest theatre project in the company's history, DruidMurphy, a celebration of the writer Tom Murphy through his epic tales of Irish emigration spanning 1846 to 1980. Beginning in Galway in May next year, it will make its London premiere on June 23rd at Hampstead Theatre, as part of London 2012's Cultural Olympiad. In July, DruidMurphy will open in the USA before returning to Galway to play two weeks as part of Galway Arts Festival, in both Galway city and county. This marks a departure for Druid and Galway Arts Festival as it is the first time Druid will have played Galway City, and a further three locations in the County, as part of the Festival.
From August to the end of October the production will tour in Ireland, the UK and USA.
Told through three of the greatest plays by Tom Murphy, Famine,A Whistle in the Dark and Conversations on a Homecoming, DruidMurphy is a major retrospective of one of Ireland's most respected living dramatists by a theatre company internationally renowned and celebrated for large-scale theatre performances.
Crossing oceans and spanning decades, DruidMurphy is a sweeping tale that allows audiences to see who they are – regardless of where they might call home. Told over the course of three evenings or in an entire cycle on one day, it promises to be one of the theatrical events of 2012.
DruidMurphy is directed by Garry Hynes – "probably the foremost interpreter of Irish drama in the world today" (The New York Times). It is the largest touring project happening in Irish theatre next year and will feature an ensemble cast of 19 actors and a touring company of 32. The cast of DruidMurphy includes Niall Buggy, David Herlihy, Aaron Monaghan, Rory Nolan, John Olohan and Marty Rea. The productions will be designed by Francis O'Connor, with costumes by Joan O'Clery, lighting by Chris Davey and sound by Gregory Clarke.
Garry Hynes, Artistic Director with Druid, commented,
"Tom Murphy's work has been essential to Irish life, to Irish theatre and to the development of Druid. It's been a long cherished ambition of ours to put together an ensemble company to perform a cycle of his plays for audiences all over Ireland and abroad. I am thrilled that with the help of the Arts Council, Culture Ireland and our three co-producing partners that we now finally have the chance to do that."
Druid's previous large scale projects include the four time Tony Award-winning 'Leenane Trilogy' by Martin McDonagh (West End and Broadway) and in 2006 the company's staging of the work of JM Synge, DruidSynge, described by the New York Times as "a highlight not just of my theatregoing year but of my theatregoing life".
Jimmy Deenihan TD, Minister for Arts, Heritage and the Gaeltacht commented,
"A project of this scale, dedicated to one of our greatest living writers, further demonstrates Druid's commitment to presenting world class theatre on the national and global stage and to the importance that this government attaches to the role the arts play in society."
DruidMurphy revives the long-standing relationship between Tom Murphy and Druid who most recently worked together in 2009 when The Gigli Concert officially opened the refurbished Druid Lane Theatre as part of Galway Arts Festival. Murphy was previously Writer-in-Association with the company and his plays, Bailegangaire and Conversations on a Homecoming, received their world premieres in the theatre on Druid Lane.
This latest collaboration is also a testament to Druid's commitment, and ability, to bringing theatre to audiences throughout Ireland and worldwide. Earlier this year the company toured extensively throughout Ireland, the UK and USA with their productions of The Cripple of Inishmaan, The Silver Tassie and Penelope. The company is currently on a nationwide Irish tour with John B Keane's Big Maggie, performing at ten venues until February 2012.
Eugene Downes, CEO with Culture Ireland commented,
"DruidMurphy is an extraordinary project both in global reach and artistic ambition. Tom is one of the great world dramatists of our time, and Culture Ireland is particularly proud to be supporting this unique, epic presentation of his work, building on existing relationships with key partners in the US and UK. This will be one of the Irish highlights of the London 2012 Festival."
This production is a co-production between Druid and Quinnipiac University, Lincoln Center Festival, and Galway Arts Festival. Druid would like to acknowledge the continuing support of the Arts Council and Culture Ireland without whom this production and tour would not be possible.
About the Productions
FAMINE – County Mayo, West of Ireland – 1846
In Glanconnor village in the west of Ireland, the second crop of potatoes fails. The community now faces the real prospect of starvation.
A WHISTLE IN THE DARK – Coventry, England – 1960
Irish emigrants, the uprooted Carney family, adapt aggressively to life in an English city.
CONVERSATIONS ON A HOMECOMING – County Galway, West of Ireland – 1970s
Even the humblest of small-town pubs can be a magnet for dreamers. Michael, after a ten-year absence, suddenly returns from New York and has a reunion with old friends, in that same pub "The White House".
Irish & UK Tour Dates
Town Hall Theatre, Galway
Performances from May 23rd, 2012
Hampstead Theatre, London
First performances June 20th, 2012
Opening Performance June 23rd, 2012
Galway Arts Festival, Galway
Galway County Tour – w/b July 16th, 2012
Galway Town Hall Theatre Performances w/b July 23rd, 2012
Oxford Playhouse, Oxford – Booking Open
Opening Performance August 18th, 2012
Everyman Palace Theatre, Cork
A Whistle in the Dark and Conversations on a Homecoming Rep
Opening Performance September 11th, 2012
Druid Lane Theatre, Galway
A Whistle in the Dark and Conversations on a Homecoming Rep
Opening Performance September 17th, 2012
Further touring in Ireland to be announced at a later date.
USA

Tour Dates

USA dates to be announced at a later date.

About the London 2012 Cultural Olympiad
The London 2012 Cultural Olympiad is a cultural celebration bringing leading artists from all over the world together for UK's biggest ever festival – a chance to celebrate London 2012 through dance, music, theatre, the visual arts, film and digital innovation, and leave a lasting legacy for the arts in the UK.
http://festival.london2012.com/events/9000961913

For media information please contact Mary or Kate at Kate Bowe PR Tel: (01) 652 0143