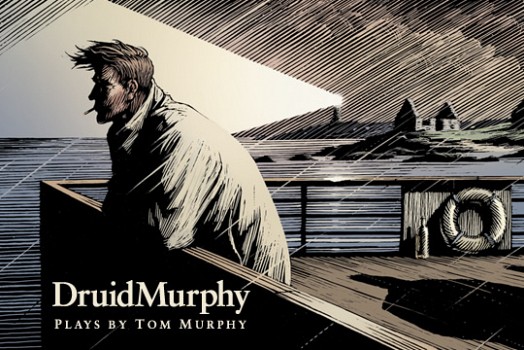 Three Plays in Three Countries in Six Months
Druid is delighted to announce a major national and international tour with their production of DruidMurphy: Plays by Tom Murphy. Playing in Ireland, England and the USA it promises to be one of the unmissable theatrical events of 2012.
DruidMurphy is a celebration of one of Ireland's foremost and most respected living dramatists and tells the story of Irish emigration through three of his greatest plays, spanning 1846 to 1970; Conversations on a Homecoming, A Whistle in the Dark and Famine. They will be staged across three countries in six months.
Garry Hynes, DruidMurphy director commented;
"It is such a privilege to be in a rehearsal room with one of the greatest writers in the English language and this great company of fine actors. I'm looking forward to bringing these plays to audiences across Ireland, and overseas, over the next six months."
Eugene Downes, CEO, Culture Ireland commented;
"It is a particular honour for Culture Ireland to partner Druid in presenting this uniquely ambitious celebration of one of the greatest playwrights of the last fifty years. It's entirely appropriate that the world premiere of DruidMurphy is taking place as one of the highlights of the opening weekend of the London 2012 Festival, the climax of the Cultural Olympiad, starting an international tour that builds on existing relationships with leading presenters including Hampstead Theatre in London, Lincoln Centre Festival in New York, Oxford Playhouse and the Kennedy Centre in Washington DC."
Performances begin in Galway at the Town Hall Theatre in May before DruidMurphy will have its premiere at the Hampstead Theatre, London as part of the London 2012 Festival in June. It will then transfer to one of the world's largest arts festivals, New York's Lincoln Center Festival, running alongside Cate Blanchett in Sydney Theatre Company's Uncle Vanya, and Mikhail Baryshnikov in In Paris. This will be Druid's seventh show to run in New York since 2006 and the company's third time at the Lincoln Center Festival.
Druid returns to Ireland to present the productions at Galway Arts Festival in advance of its August dates at the Oxford Playhouse in the UK. In September, DruidMurphy will be back in Ireland to play Cork, Galway County and the Aran Islands, with a special stop off in Murphy's native town of Tuam. The tour crosses the Atlantic once again for its final performances in Druid's third visit since 2008 to The Kennedy Center, Washington DC where it will feature in a theatrical heavyweight season that includes The Book of Mormon and War Horse.
Druid presents DruidMurphy in a co-production with Quinnipiac University Connecticut, NUI Galway, Lincoln Center Festival and Galway Arts Festival.
Druid would like to acknowledge the continued support of the Arts Council in funding this production and the support of Culture Ireland in funding its international touring programme.
For further Press information please contact Kate or Mary, Kate Bowe PR
Email: kate@katebowepr.ie; mary@katebowepr.ie
Tel: +353 1 652 0143
Cast Details and Tour schedule
CAST
Niall Buggy
Edward Clayton
Beth Cooke
Gavin Drea
David Herlihy
Garrett Lombard
Aaron Monaghan
Marie Mullen
Michael Glenn Murphy
Treasa Ní Mholláin
Rory Nolan
John Olohan
Frank O'Sullivan
Isaac O'Sullivan
Marty Rea
Eileen Walsh
Joseph Ward
CREATIVES
Director
Garry Hynes
Set Designer
Francis O'Connor
Costume Design
Joan O'Clery
Lighting Design
Chris Davey
Sound Design
Gregory Clarke
Movement Director
David Bolger
Composer
Sam Jackson
Casting Director
Maureen Hughes
TOUR
SCHEDULE
GALWAY, May 23 – June 9
Town Hall Theatre
LONDON, June 20 – 30
Hampstead Theatre as part of London 2012 Festival
NEW YORK, July 5 – 14
Lincoln Center Festival
GALWAY, July 23 – July 28
Town Hall Theatre as part of Galway Arts Festival
OXFORD, August 18 – 25
Oxford Playhouse as part of London 2012 Festival
*CORK, Sept 11 – 21
Everyman Palace Theatre
*CLIFDEN, Sept 24 – 25
Station House Theatre
*ARAN ISLANDS – Inis Mór – Sept 27
*ARAN ISLANDS – Inis Meáin – Sept 28
*TUAM, Sept 29
The Mall Theatre
WASHINGTON DC, Oct 17 – 20
The Kennedy Center
*Tickets not yet on sale.
NOTES
About the London 2012 Festival
The London 2012 Cultural Olympiad is a cultural celebration bringing leading artists from all over the world together for UK's biggest ever festival – a chance to celebrate London 2012 through dance, music, theatre, the visual arts, film and digital innovation, and leave a lasting legacy for the arts in the UK.