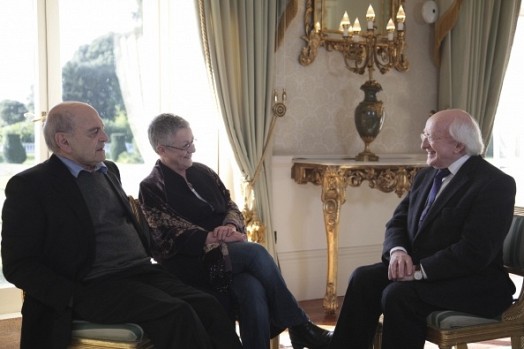 Over St Patrick's weekend Garry Hynes, Marie Mullen & Tom Murphy were among some of Ireland's renowned writers, musicians and singers, who joined President Higgins for a very special celebration of Irish culture. Glaoch – The President's Call was broadcast worldwide on St Patrick's Day, March 17th, 2013.
Through words and music, the programme celebrates Irishness, Irish creativity and its reach and impact across the world. The performances of all the artists were filmed in Áras an Uachtaráin allowing viewers everywhere to experience the historic and beautiful home of the Presidents of Ireland.
Produced by South Wind Blows for RTÉ and supported by The Gathering 2013.
Watch President Higgins Interview Garry Hynes & Tom Murphy
Watch the full programme here. The interview with Garry & Tom starts at 16.25.
Watch Marie Mullen Read an Excerpt from Famine by Tom Murphy