On a recent 'recce' visit to Inis Meáin, we took some photos and we'll share more with you after our trip on June 26th.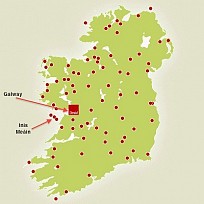 The red dots denote where Druid has toured to in Ireland.
Druid's visit to Inis Meáin on Sunday June 26th for the final stop of The Cripple of Inishmaan tour is the eighth trip to the island since its first visit in 1982 with The Playboy of the Western World. Our last visit was in 2005 for the staging of the entire DruidSynge cycle when Deirdre of the Sorrows was presented outdoors in the ancient fort of Dún Chonchúir.
Druid has toured the length and breadth of Ireland and is looking forward to returning to Inis Meáin for what will be a very fitting end to this major tour.
For more information about The Cripple of Inishmaan, you can visit the production page here.