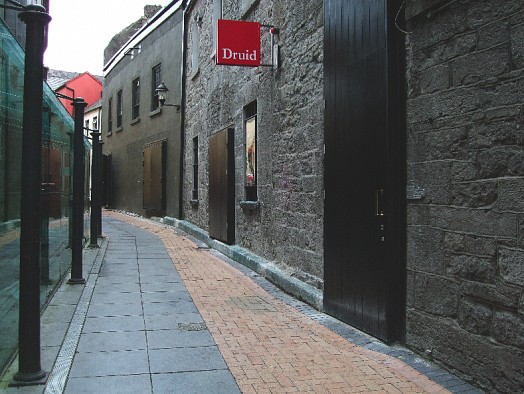 Druid Lane Theatre, Galway
While Druid is away on tour, our theatre is still busy with lots of events from local arts organisations.
Baboró International Children's Festival (Oct 11 – 18)
For tickets to the Baboro International Children's Festival click HERE or call +353 91 569 777.
An Taidhdhearc presents Boicíní Bothár Kilburn (Oct 19 – 23)
Running nightly at 8pm. Tickets available directly from An Taibhdhearc on +353 91 563 600 or on the door on the night.
Galway Theatre Festival – Various Venues (Oct 25 – 31)
The Festival takes place at a number of venues around Galway City and tickets are available at the Town Hall Theatre on +353 91 569 777 or online HERE.
For information about the shows taking place in Druid Lane Theatre, please click on the name of the show below.
TrueWest Theatre presents Oleanna by David Mamet
Tuesday October 26th at 10pm
Wednesday October 27th at 6pm
Banjaxed presents Blasted* by Sarah Kane
Wednesday October 27th at 10pm
Thursday October 28th at 1pm
Tyger Theatre presents Freefall:Hero by Colm Byrne
Thursday October 28th at 10pm
Friday October 29th at 6pm

Latchiko Productions presents The Makralaytors by Aindrias De Staic
Saturday October 30th at 10pm
Sunday October 31st at 6pm
For information about how to get to the theatre, please click HERE.