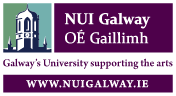 As part of the Academic partnership between NUI Galway and Druid, NUI Galway are inviting applications for a Druid Director-in-Residence for a fixed term of one semester (1st January to 30th June 2012) with the possibility of renewal for two semesters in subsequent years.


For more information about the position, please click here.
The Druid Director-in-Residence will participate in the development of theatre and performance education at NUI Galway, particularly in relation to the BA Connect programme and the MA in Drama and Theatre Studies. The successful candidate will be able to enhance and expand the university's current offerings in these areas.