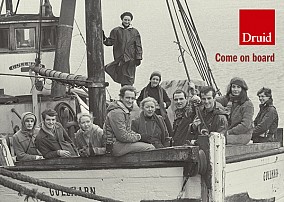 Druid's first visit to Inis Meáin in 1982 to present The Playboy of the Western World by J.M. Synge. Photo by Joe O' Shaughnessy
As part of our 35th birthday celebrations on May 21st and 22nd, Druid launched a new Members and Friends scheme.
In a message from Artistic Director, Garry Hynes, you can read about the important role our Friends have played down through the years. We hope you can come on board as we embark on the next phase of our journey.
For more information about becoming a Member or Friend, click here.