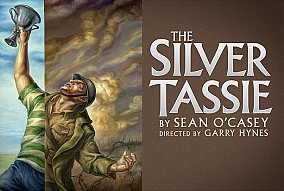 This autumn Druid will undertake a tour of Ireland and the UK with its production of The Silver Tassie by Seán O'Casey. The company invites young people to join professional actors on stage in Portlaoise, Cork, Tralee and Ennis. Auditions for the Galway run of this tour have already taken place.
For more information about this production, click here.
AUDITION
DATES
Thursday July 15th at 1.30pm – Dunamaise Arts Centre, Portlaoise
Friday July 16th at 10.00am – Everyman Palace Theatre, Cork
Friday July 16th at 4.00pm – Siamsa Tíre, Tralee
Saturday July 17th at 1.00pm – Glór Theatre, Ennis
REHEARSAL
AND
PERFORMANCE
DATES
DUNAMAISE, PORTLAOISE
Rehearsal Dates: Friday Sept 24th and Thursday Oct 14th to Monday Oct 18th (excl Sunday)
Performance Dates: Monday Oct 18th to Wednesday Oct 20th
EVERYMAN PALACE THEATRE, CORK
Rehearsal Dates: Thursday Oct 7th to Tuesday Oct 12th (excl Sunday)
Performance Dates: Tuesday Oct 12th to Saturday Oct 16th
SIAMSA TÍRE, TRALEE
Rehearsal Dates: Saturday Sept 25th and Tuesday Oct 19th to Thursday Oct 21st
Performance Dates: Friday Oct 22nd to Sunday Oct 24th
GLOR, ENNIS
Rehearsal Dates: Friday Aug 27th to Weds Sept 1st (excl Sunday)
Performance Dates: Weds Sept 1st and Thurs Sept 2nd (Town Hall Theatre, Galway) and Thursday Sept 9th to Saturday Sept 11th in glór in Ennis
RELEVANT
INFORMATION
We are looking for both male and female actors
Participants must be aged 16 or 17 on all of the rehearsal and performance dates – please bring proof of ID on the day
Previous acting experience is not required but you will be required to sing a song on the day of the auditions. Lyrics will be provided on the day.
Pre-registration is not required for auditions. Registration will be done on the day at the specified time.
Should you require any additional information, please contact Druid on +353 91 568 660 or email auditions@druid.ie