This article first appeared in The Sunday Times newspaper on Sunday June 19, 2011.
I finally get to Charleston, South Carolina, after the long haul from Dublin (Scrabble on my laptop is my final defense against the cramped boredom of these flights.) It's strange to be in an American city where the only high rise in sight is a church steeple! It has to be said though that Charleston, with a population of only 120,000, has turned out to be one of the highlights of the tour. We're here as part of the Spoleto Festival, one of USA's premier arts festivals, and reports from the cast and crew have been more than positive.
As always my first stop is the theatre (well depending on the time of day, my first is often a restorative Martini).
The Dock Theatre where we are playing is a beautifully restored Georgian theatre. It was saved from demolition during the Depression era by a WPA project which chimes nicely since one of the books I have on the go at the moment is a biography of FDR and Eleanor Roosevelt. As always, I am taken aback by the sight of our set on another stage in another new city, and marvel again at all the parts of the Druid touring machine that had to click into place to get it there.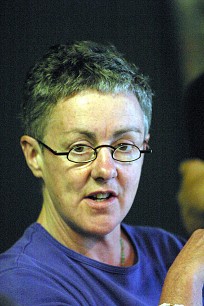 The last time I saw the show was eight weeks ago in LA so I'll be doing a note session with the cast after tomorrow's performance. This is known in the theatre as 'taking out the improvements'. When I meet the company later I see there has most definitely been an improvement in their sun-tans and they are now looking a touch more Californian than Inis Meáin. I keep that particular thought to myself, however.
The following evening we are guests at a reception hosted by Ireland's Consul General in Atlanta, Paul Gleeson. It takes place in a beautiful ante bellum mansion on the waterfront, owned by Sonny Mevers, a great friend of Ireland and the South.
There really is a distinct Southern gallantry about the men and elegance to the women. I wished I had scheduled a few more days here but next morning it's back to New York for meetings and some shows, notably Lynn Nottage's new play, By the Way Meet Vera Stark, at Second Stage. I have loved her work since I first saw Intimate Apparel in 2004 and once again I try to puzzle out if there is some way of creating a context for producing this kind of brilliant American work in Ireland.
'Cripple' on Inis Meáin
Back home, it's straight to Galway for the day job. Next week 'Cripple' is coming home to the Town Hall Theatre in Galway, and to the island of Inis Meáin, and a five-month tour is peanuts compared to the logistics of two performances on the island. In addition we are hosting some special guests for these final performances, President McAleese, Senator Martin McAleese, Minister Jimmy Deenihan TD and Martin McDonagh who will be checking out how 'Inishmaan' plays on Inis Meáin!
Touring is in Druid's DNA and we have homes in every part of the country but there is no denying that Inis Meáin is special to us. It's almost thirty years since we first played there in 1982 and since DruidSynge in 2005 we have been itching to get back (more touring money please?). Since we discovered that The Cripple of Inishmaan has never actually played on Inis Meáin, everyone has been determined to make this happen.
The logistics are a nightmare – transporting, feeding, housing a company of thirty people on a small island feels a bit like moving Hannibal and his army over the Alps but as always, I find the team are entirely on top of it even if there a slight look of terror in their eyes. Adding to the pressure is the fact that the world and its mother seems to want to come and the Halla on Inis Meáin has only a few spare seats after the islanders have been accommodated.
Friday I'm back in Dublin for auditions for our next production in the autumn and a photocall in a back lane in Portobello with the great Ros Kavanagh behind the lens and our make-up artist, Val Sherlock, fussing around our lead actress, Aisling O'Sullivan, like a demented mother.
Some more meetings, a couple of press interviews, pile up the reading material and the weekend is in sight.
This article first appeared in The Sunday Times newspaper on Sunday June 19, 2011.
·