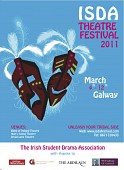 The ISDA Festival comes to Galway and to Druid from Friday March 4 – Saturday March 12 and is this year hosted by NUI Galway Dramsoc with over 45 events in 9 days.
The Irish Student Drama Association (commonly referred to as ISDA) is the umbrella organization of Ireland's most prolific third-level drama societies. The highlight of the ISDA year is the Association's annual Theatre Festival – a week-long festival in which all member societies travel to the selected city and perform plays from their home college.
Programme and Booking
For full programme details and to book tickets, click HERE.
Venues
The 25 plays from 13 colleges around Ireland will be performed in the Druid Theatre, Nun's Island Theatre and the Bank of Ireland Theatre.
Performances in Druid
Performances will take place nightly at 8pm in Druid Lane Theatre from Friday March 4 – Friday March 11.