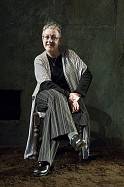 Garry Hynes. Photo: Nick Burchell
The President and Mrs. Obama have extended an invitation to Garry Hynes to attend a St. Patrick's Day Reception at the White House on March 17th. Garry will attend as part of the official Irish delegation which includes some of Ireland's top names in business, sport, politics and the arts.
Druid has enjoyed a very strong relationship with the United States over the years and has presented numerous productions not only in New York but right across the entire country as far as Los Angeles. Druid's production of The Beauty Queen of Leenane by Martin McDonagh famously won Druid four Tony awards including Best Director for Garry Hynes, the first woman ever to win such an award.
PRESIDENT'S MEDAL
Closer to home, Garry will receive The President's Medal from NUI Galway's Literary and Debating Society on Thursday, March 11th. This is the society's highest accolade and recognises those who have excelled in their chosen fields and have contributed to the arts and the wider world. Previous recipients have included Nobel Peace Prize Winner, Archbishop Desmond Tutu, Mary Robinson, Former UN High Commissioner for Human Rights and President of Ireland, Mary Robinson and Prof. Noam Chomsky.
INTERVIEW WITH GARRY HYNES
The Literary & Debating society will also host an interview with Garry Hynes on Thursday March 11th, which will be conducted by Professor Adrian Frazier – English Lecturer in NUI Galway and Director of the MA in Drama and Theatre Studies, who has published extensively on Irish poetry, drama, and fiction of the 20th century. The interview will examine Garry's own personal experience with Irish Drama, the unique contribution which Druid has made, the development of Irish Theatre in the past to what it is today and also the threat it faces through the possibility of cuts in funding. Following the interview, there will be a Q&A session, where members of the audience will have the opportunity to put questions to Garry and Prof Frazier. The event is open to the general public and will take place on Thursday, the 11th of March in the Upper Aula Maxima, the Quadrangle, NUI Galway at 7pm.