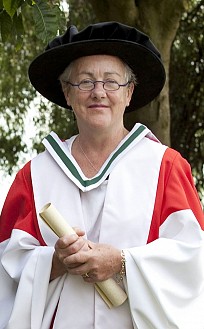 Link to University College Dublin news item about conferring.
Press Release
Today, September 1st, Garry Hynes was awarded an Honorary Degree of Doctor of Literature by University College Dublin (DLitt). The degree was conferred at a ceremony in the O'Reilly Hall.
Each year, University College Dublin awards honorary degrees to a small number of individuals who have distinguished themselves in various walks of life. The Academic Council of UCD invited Ms Hynes to accept the degree earlier this year.
This is the fourth honorary doctorate to be awarded to Garry Hynes. She was the recipient previously of doctorates from the National University of Ireland, Galway in 1997, Trinity College Dublin in 2004 and the National Council for Education Awards in 1988. Earlier this year, Garry Hynes was appointed Adjunct Professor of Drama and Theatre Studies at NUI Galway.
The Chairman and Board of Druid congratulated Garry Hynes on the occasion of this conferring.
Seamus O'Grady, Chairman of Druid, said
"On behalf of the Druid Board of Directors, I congratulate Garry Hynes on this further academic award. It is yet another acknowledgement of the outstanding contribution that Garry has made to Theatre, Arts and Culture in Ireland."