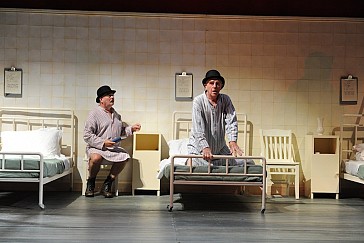 John Olohan and Eamon Morrissey in The Silver Tassie by Sean O'Casey. Photo by Robert Day.
Druid's production of The Silver Tassie by Sean O'Casey finished a hugely successful run at the Gaiety Theatre on October 10th as part of the Ulster Bank Dublin Theatre Festival.
Almost 7,000 theatre-goers attended the show over the course of its week long run which played at the largest venue in the Festival.
Europe's oldest specialist theatre festival has hosted productions by the world's most highly regarded artists since it was founded in 1957 and also premieres work by the giants of Irish theatre. Druid has been a regular visitor to the Festival down through the years and its production of The Silver Tassie is considered one of the highlights of the 17 day Festival which runs until October 17th.
Directed by Garry Hynes, Druid's epic production has enjoyed fantastic success and received rave reviews since opening in the Town Hall Theatre last August. It played to full houses at home in Galway and at glór in Ennis before it transferred to the UK where it ran at the Oxford Playhouse and The Lowry in Manchester, marking Druid's fourth visit in just over two years to these UK venues.
Commenting on the popularity and success of the play, Druid General Manager, Tim Smith, who is currently on tour with the show said
Playing The Gaiety Theatre is always one of the highlights of any tour but to play to so many people, in Dublin's most beautiful theatre and in one of the best Theatre Festival's in the world made for an incredible week.
The Silver Tassie continues its tour until October 24, with performances in the Everyman Palace Theatre, Cork, Dunamaise Arts Centre, Portlaoise and Siamsa Tíre, Tralee. Meanwhile Druid's production of Penelope by Enda Walsh will receive its American premiere in New York from October 23 – November 14.
The Silver Tassie is the biggest production to tour Ireland this year and Druid would like to acknowledge the continued support of the Arts Council in funding the staging of The Silver Tassie and for supporting the Irish tour. Druid is also grateful for the support of Culture Ireland for funding the UK tour.
To go to the production page for The Silver Tassie click HERE.