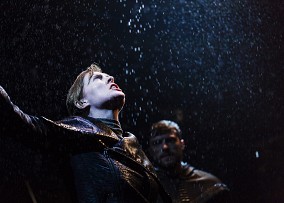 Wildfire Films' documentary about the making of DruidShakespeare will air on
RTÉ
One on Tuesday 15th December at 10:15pm, after Prime Time. Directed by award-winning director Maurice Sweeney, the documentary follows the making of this epic project from its early days in the rehearsal room right up to the final performance in Kilkenny's Castle Yard, which was attended by President Michael D. Higgins and his wife Sabina Higgins.
Wildfire's documentary presents a rare look behind the scenes – from the early workshops to first performances; from line-runs to technical problems and from opening night to enthusiastic reviews. It charts the highs and lows of this ambitious production and focuses on the central question: how do Druid, as an Irish company, stage these plays about English history? For those of you who missed the performance this summer, the DruidShakespeare documentary is as close as you might get to knowing the answer to that question.
Click here for a sneak peek of the documentary and follow the reaction online with #DruidShakespeare on Twitter.