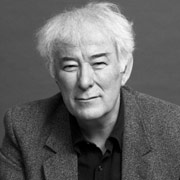 Druid joins with the world of Arts and Letters and the people of Ireland in mourning the loss of a great and true poetic voice. Seamus Heaney's gift for elevating the ordinary and illuminating the dark corners has left us all enriched and, today, all the sadder and poorer at his passing. He was an exceptional man and a generous and understanding friend to so many. We give thanks that his words will endure.
We extend our deepest sympathies to Marie, his children Christopher, Michael and Catherine Ann and his whole family.
Cathal Goan, Druid Chairman on behalf of the company.