Druid mourns the passing of former Taoiseach and Fine Gael leader, Dr Garrett FitzGerald. Ar dheis Dé go raibh a anam dilis.
Dr FitzGerald served two terms as Taoiseach. He was first elected to Dáil Éireann as a Fine Gael TD in 1969 after previously serving in Seanad Éireann, to which he was elected in 1965. He served as Taoiseach from July 1981 to February 1982 and from December 1982 to June 1987. During his time as Taoiseach he negotiated the Anglo-Irish Agreement in 1985.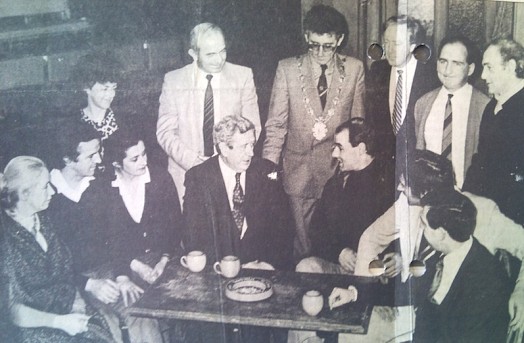 Dr Garrett FitzGerald is pictured here with the cast and writer of Conversations on a Homecoming, Tom Murphy, during his visit to Druid in December, 1986. Seated (left to right) Marie Mullen, Sean McGinley, Jane Brennan, Dr. FitzGerald, Maeliosa Stafford, Maurice O'Donoghue, Ray McBride. Standing: Garry Hynes, John Donnellan, T.D., Minister of State, Alderman John Mulholland, Mayor of Galway, Fintan Coogan, T.D., Jerome Hynes and Tom Murphy (writer).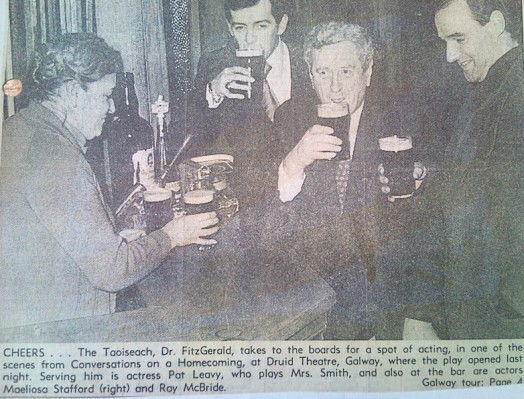 Dr FitzGerald treads the boards on the set of Conversations on a Homecoming by Tom Murphy when he visited Druid Theatre in December, 1986. Serving him is actress Pat Leavy, who played Mrs Smith, and also actors Maeliosa Stafford (right) and Ray McBride.