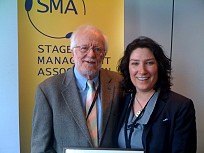 Sarah Lynch (Druid Company Stage Manager) receives the UK National Stage Management (Individual) Award from Richard Pilbrow – June 16th, 2010.
Druid's Company Stage Manager, Sarah Lynch, was today awarded the 2010 UK National Award for Stage Management (Individual) from the Stage Management Association at a special ceremony in London. Richard Pilbrow, one of the world's leading theatre design consultants, presented the award which acknowledges Stage Managers' skill and talent, and awards those who have performed exceptionally during the period from June 2009 – June 2010.
Sarah was nominated because of her exceptional work as Company Stage Manager with Druid. During the past 12 months, Sarah kept six Druid productions on tour in Ireland, UK, Canada, USA, Australia and New Zealand. On accepting the award, Sarah paid tribute to all the stage managers who have worked with Druid over the past year, and to the entire technical team, led by Druid's Production Manager, Eamonn Fox.