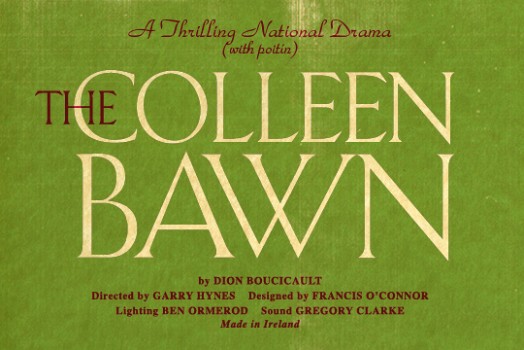 Druid is delighted to announce a new production of The Colleen Bawn by Dion Boucicault, directed by Garry Hynes which will run in Galway from December 5 – 21. Additional tour dates will be announced shortly. To receive updates, please join our mailing list here.
How to Book Tickets
Dates: Thursday December 5 – Saturday December 21, 2013 (excluding Sunday December 8 & 15). Nightly at 8pm
Venue: Black Box Theatre, Galway
Ticket Prices: December 5 – 10 | €21 / €17 & December 11 – 21 | €26 / €21
Please Note: Additional tour dates will be announced shortly.
About The Colleen Bawn
A suspense-filled tale of tangled love, misplaced honour and downright skulduggery.
Tony Award-winning Druid's new production of Dion Boucicault's The Colleen Bawn will be a Christmas treat in the specially transformed Black Box Theatre in Galway.
This lively, poetic 'mortgage melodrama' captures the shifting sands of Irish identity, an issue that continues to have a strong resonance in this era of 'Gatherings'.
Director Garry Hynes has once again assembled an outstanding cast with some of Ireland's leading actors, including Marie Mullen, Maelíosa Stafford, Aaron Monaghan & John Olohan to ensure that this 'Colleen Bawn' will be a source of mirth and edge-of-the-seat engagement for all the family. Queen Victoria saw the play three times – don't expect Victorian costumes (!)… Just expect to be enthralled.
Oh, and there's music too!
Directed by Garry Hynes
Designed by Francis O'Connor
Lighting by Ben Ormerod
Sound Design by Gregory Clarke
Druid would like to acknowledge the support of the Arts Council.
---