Today we are thrilled to announce our programme of work for the coming year:
Big Maggie by John B. Keane
Waiting for Godot by Samuel Beckett
Helen and I by Meadhbh McHugh
The Beauty Queen of Leenane by Martin McDonagh
Druid Debuts
FUEL: Emerging Artist Residency
'In 2016 Druid achieves its ambitions of producing four productions in one year and touring them all over Ireland, and coast to coast across the US.' said Artistic Director, Garry Hynes. 'We are working with national and international producers including MCD in Ireland, and David Eden Productions and Center Theatre Group in the US. The company will produce classic and new work including The Beauty Queen of Leenane with Marie Mullen, which will embark on a 6-month tour, and Helen and I, a new play by Tuam writer Meadhbh McHugh, directed by Annabelle Comyn. We will continue our development of new, local talent with FUEL and Druid Debuts and throughout the year we will engage with Waking the Feminists to see how we, as a company, can begin to address gender inequality in theatre. A major step in our 2016 programme will be a very special production of Waiting for Godot by Samuel Beckett, which was initiated by members of the Druid Ensemble. This shared ownership of the artistic programme marks a new and very welcome departure for the company.'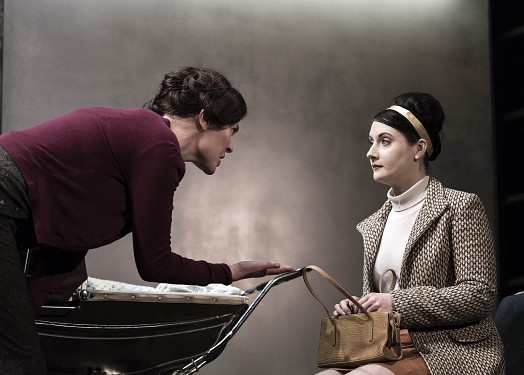 Aisling O'Sullivan and Charlotte McCurry in the Gaiety presentation of the Druid production of Big Maggie photo: Matthew Thompson
Big Maggie
Druid's production of John B. Keane's Big Maggie, directed by Garry Hynes, sees the return of Aisling O'Sullivan in the lead role, Keith Duffy reprising his role as lusty commercial traveller Teddy Heelin, John Olohan as Byrne and Joan Sheehy as Old Woman. The production also features top Irish talent Clare Barrett, Karen McCartney, Charlotte McCurry, Emmet Byrne, Muiris Crowley, Clare Monnelly and Frank O'Sullivan.
The Gaiety has today announced that the run will be extended by popular demand until 12th March and tickets are on sale here.
Waiting for Godot
Waiting for Godot by Samuel Beckett will be performed by members of the Druid Ensemble – Marty Rea, Aaron Monaghan, Garrett Lombard and Rory Nolan. This iconic play will be presented in the intimate surroundings of the Mick Lally Theatre on Druid Lane. Tony award winner Garry Hynes will direct the production, working with the same dynamic creative team that designed DruidShakespeare.
Helen and I
As part of the company's ongoing commitment to new writing talent, Druid will present the work of Tuam playwright Meadhbh McHugh. Helen and I will receive its world premiere in August in Druid's home at the Mick Lally Theatre, Galway. The production was previously read as part of Druid Debuts and will be directed by Annabelle Comyn.
Helen & I tells the story of two sisters who return home to look after their dying father. In the hothouse conditions of a summer's weekend, the future emerges from hard-won and hard-fought rearrangements of the past.
The Beauty Queen of Leenane
Druid officially opened the Town Hall Theatre in 1996 with the premiere of The Beauty Queen of Leenane by Martin McDonagh. In September, to mark the 20th anniversary of its opening, Druid will return with a new production of the award winning play. Garry Hynes will once again direct this dark comedy and Marie Mullen will this time play the role of manipulative ageing mother Mag, having originally played the part of daughter Maureen in 1996.
Touring is central to Druid and The Beauty Queen of Leenane will be the company's flagship touring production for this coming winter and spring 2017. After its Galway run, the production will play across Ireland and embark upon a coast-to-coast tour of the US.
Druid received four Tony Awards for the original production in 1998, including Best Direction of a Play (Hynes), Best Leading Actress, Best Featured Actress (Mullen) and Best Featured Actor.
Druid Debuts and
FUEL
Druid's commitment to artist development continues with cornerstone initiatives Druid Debuts, staged readings of new work, in July, and year three of FUEL: Emerging Artist Residency in the autumn. Druid is delighted to announce a five-year funding partnership with St. Anthony's & Claddagh Credit Union, Galway, to support artists through FUEL.
Full details of all Druid 2016 productions will be announced in the coming months.
Druid would like to acknowledge the continuing support of the Arts Council, Culture Ireland, NUIG, Galway City Council, Galway County Council and St. Anthony's & Claddagh Credit Union.