Today Druid and NUI Galway announced the details of a new partnership which will see both organisations working together to develop the next generation of theatre makers. The origins of Druid began on the NUI Galway campus when Garry Hynes and Marie Mullen set up a theatre company after they graduated in 1975. They were joined in this venture by Mick Lally (1945 – 2010), also a graduate of NUI Galway, and so Druid was born. It is therefore fitting that 35 years later we are at the beginning of a new and exciting partnership with their alma mater.
Below is the full press release which was issued today.
Press Release Monday, December 13, 2010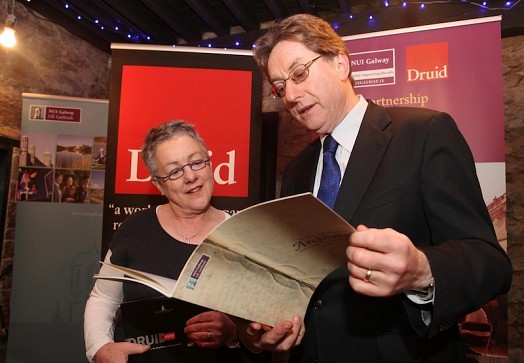 Garry Hynes, Druid Artistic Director and Dr James J. Browne, President, NUI Galway at the announcement of the Druid and NUI Galway partnership on December 13, 2010 in Druid Lane Theatre. Photo by Aengus McMahon.
The West of Ireland has always been renowned for the central role played by the creative arts and NUI Galway has provided a breeding ground for the development of artistic talent in successive generations of students. Now, in a groundbreaking initiative, NUI Galway and Druid are coming together to form a partnership that will be crucial in maintaining and developing the performance arts of the region into the future. In an exciting new collaboration, NUI Galway will contribute to the development of Druid's next major theatre event (to be produced in 2012/13) while Druid, in turn, will develop a range of practice-led workshops and seminars including a series of Master classes for BA and MA students.
In addition, in a move that highlights the new initiative, a Druid Director-in-Residence will be appointed who will co-ordinate the joint Master classes and workshops and offer classes and mentoring in various aspects of directing and stagecraft to NUI Galway students. These contributions will enhance two successful NUI Galway academic programmes: the MA in Drama and Theatre Studies and BA Connect in Theatre and Performance.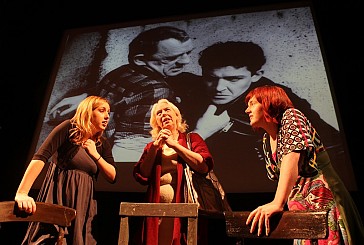 Kate Murray, Marie Mullen (Druid Founder and Actor) and Emer McHugh read an excerpt from Bailegangaire by Tom Murphy at the announcement of the Druid and NUI Galway partnership. Kate and Emer are third year students on the BA Connect in Theatre and Performance in NUI Galway. Photo by Aengus McMahon.
The relationship between NUI Galway and Druid is a long and fruitful one. The company was founded on campus in 1975 by graduates Mick Lally, Marie Mullen and Garry Hynes. Through the years the two organisations have collaborated at various times including notably the housing of the Druid archive at the James Hardiman Library at NUI Galway and the establishment of a playwriting award in memory of the late Jerome Hynes who was General Manager of Druid at a formative stage in the company's development. The three founders, as well as being graduates, have all been awarded Honorary Degrees by the University.
Commenting on the new partnership, NUI Galway President James J. Browne said, "We are very excited by this new and innovative partnership with Druid, which, I believe, holds wonderful opportunities for both organisations. For the University it represents a new creative thrust for our academic programmes in theatre and drama, which will be enriched by the talent and experience of a world leading professional theatre company. In turn we are able to play a role in Druid's ability to continue to present first class theatre for stages both here in Ireland and abroad."
Garry Hynes commented that, "Back in 1975 NUI Galway helped Druid launch into the world with the provision of various facilities and continued to help us informally through the years. Now 35 years later we are at the beginning of a new and very exciting partnership. Without NUI Galway, and other partners, Druid simply would not be able to produce these major projects that have become such central events for our actors and our audience alike. Just as I – informally – took my first steps in the theatre in NUI Galway, I am now, through this programme looking forward to helping the emergence of the next generation of theatre makers from my alma mater."
Druid would like to acknowledge the continued support of the Arts Council in funding the company's work and also the support of Culture Ireland in funding its international touring programme.