Culture Night is a nationwide initiative and is Ireland's largest platform to showcase its rich cultural and artistic treasures and provides the opportunity to all to participate in free arts and cultural events throughout the country.
In Galway there are over 50 free events taking place all over the city. For more details click here.
Blue Teapot Theatre Company present 84 by Len Collins
Druid welcomes the Blue Teapot Theatre Company to present a reading of the screenplay, 84, as part of Culture Night.
About 84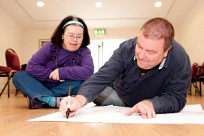 Little does Tom know when he says goodbye to his parents that he's seeing them for the last time. He believes he is going on a vacation. That his girlfriend will accept his proposal of marriage. That the future is bright. The gang are all meeting at the dancehall, where they wait for the 84 bus to take them to their destination; but in a world run by the ministry, nothing is as it seems. A funny, sad, tense and intriguing drama.
As part of a strategic partnership between Blue Teapot, Arts & Disability Networking (ADN) and supported by Fishamble: The New Play Company, Westport based screenwriter Len Collin was commissioned to write a short film script for Blue Teapot's ensemble actors. The resulting work '84' will be premiered as a performance reading of the screenplay.
This new writing project is being funded through the Arts and Disability Networking (ADN), a partnership between Arts Council, Arts & Disability Ireland and Galway City and County Councils. The initiative is to pilot a new model of developing local capacity in the area of arts and disability in Ireland.
When: Friday September 23rd, 2011 at 8pm
Venue: Druid Lane Theatre
NOTE: This is a free event.